A Michelin starred chef in Istanbul
Sergi Arola grew up in Catalonia region, one of the richest cuisines of Spain and so to speak, she's a friendly chef who's full of life. Her adventure as a chef started fast yet surely in Barcelona, and led up to her opening a restaurant in Madrid that ended up receiving 2 Michelin stars. Now, she shares these much-favoured tastes from various countries with you. As luck would have it, the place is in the new apple of the eye of gastronomy in Europe, that is ladies and gentlemen, Istanbul. Arola Restaurant located in Raffles Hotel Istanbul is decorated simply yet splendidly, and it serves Spanish tastes for Turkish. Visiting the place from time to time, Sergi Arola serves her own made specials for you in the restaurant.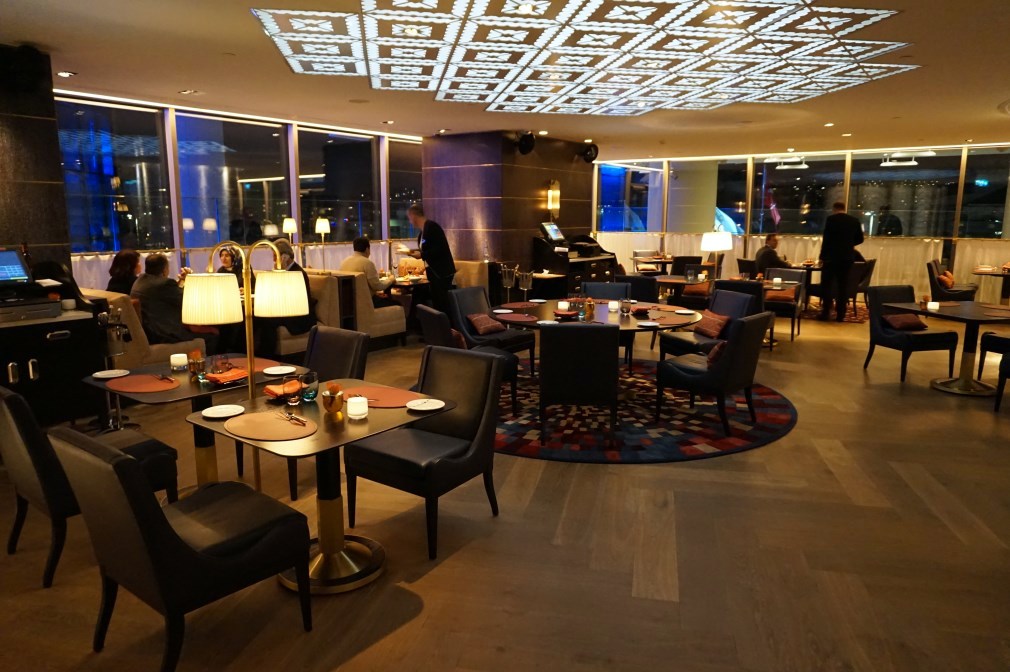 Marvellous Setting and High-Class Waiters
The interior design catches your breath as you enter Arola Restaurant. I can't say I understand architecture much, but my personal comment is that this simple yet dark setting is on the same level with the concept of Arola Restaurant.  I find it quite reasonable to see the colour red and modern figures of bull used dominantly, as they reflect Spanish culture. The lighting is on a level that you can clearly see your food, but it doesn't disturb your eyes at all. It seems that the staff of Arola Restaurant also went through a good training. Their success in informing the customers about the food and their precise recommendation of food win my appreciation. For a newly opened place, the staff is quite a good team. The European approach of waiters in asking whether we have any allergies or not shows that Arola Restaurant is on the right path.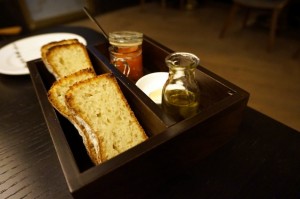 The Classics of SergiArola don't meet my Expectations
I've never dined at Sergi Arola's restaurant in Madrid, which received 2 Michelin stars yet. For that reason, I had no other places I could compare to this one. I would like to make my assessment on the classics I would have the first time, so it's quite easy for me to perceive the style of SergiArole in that sense. This famous chef reducing the classic Mediterranean dishes down to a sort of Spanish tapas,seems to be attentive to use vegetables in almost all of her dishes. The first thing we're served is bread leavened for 4 times, fresh tomato sauce and olive oil. This bread enriched by spreading some garlic turns into a great taste when added this beautiful tomato sauce on it. The crust of the bread very hard, but inner side is beyond words. It's also a good choice to spread garlic over this bread. It has low acidity and their early harvested olive oil is satisfactory. They serve these with fleshy Kalamata olives.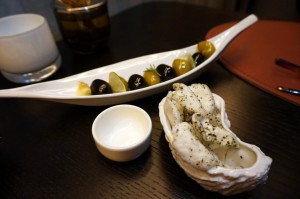 I order Bravas Arola (or potato bravas) I feel I must definitely try, Kalamari sandwich and Arola steak tartar. Patatas bravas is a popular national Spanish food, and quite a simple recipe. Sergi Arola makes this classic dish in her own way. You can see the recipe in many recipe books. It's done by filling in the potatoes with a special cream. These potatoes carved from inside are roasted in the oven and then filled with a cream made of egg, garlic, salt and lemon. This cream with a very light taste of garlic is not very impressing in my opinion. I think a potato croquet made of old kashar cheese is on the same level with this dish.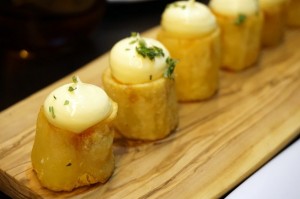 Next, my steak tartar is a meat dish served with the combination of beef meat with raw egg yolk, parsley and crispy onions. This warm starter prepared with raw meat might be bothersome for those with stomach problems. I find the meat marinated with soya sauce, rock salt and a small bit of wasabi way too salty. I feel I'm having a taste from Far East cuisine, not Spanish. It's a good choice for those who like savoury taste, but it's not for me. Lastly, my Kalamari Sandwich is made of calamari and lemon cream put in between thin crunchy bread slices. This special is my favourite among starters. The hardness of the crunch contrasted with the soft texture of calamari is beautiful and the lemon sauce adds freshness to the taste of calamari-
Seafood Paella is above Standard
I've prayed not the experience the same disappointment I've had with starters in this seafood paella. I can't say anything for the freshness of the ingredients, and I thank them for putting them in abundance, but I expected the quality of rice better, especially from a chef like Arola who was born, raised up in Barselona and knows all the secrets of Catalonia region. I can't say it's bad, but I think it should have been better. Although, it's a taste above standard. Especially, they didn't cook the rice enough and let it soften up. It's obvious that shrimps are very fresh and not frozen though.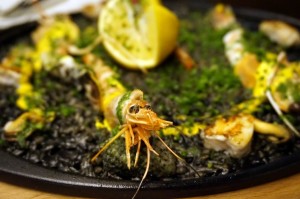 The Sweetest Moments at Arola
The most beautiful moments at Arola Restaurant are the moments when we order "the sweet moments of Arola", a mixed platter of three mini desserts. I'm rally glad that this dessert under the name Crema Catalan is nowhere near the original one, as this one is much better. The best of the trio is definitely this one. It has a layer of biscuits on the bottom. Next layer is citrus sauce. What is more, it's very light.  Although strawberry meringues haven't impressed me as much as Crème Catalan, it's quite alright for tasting. I think the biggest problem of this dessert is that it's too soft. The last dessert is made of pineapple covered in white chocolate. Just as patatasbravas special, it's in a similar shape, and has cream just like bravas. But this cream is sweet. Beneath, there's some grated chocolate made of cacao almond powder and egg yolk.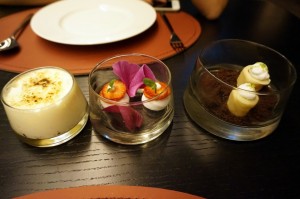 This restaurant striving to serve good food with in a good setting makes some excellent dishes. However, due to some problems, Arola Restaurant is Istanbul hasn't created a quite unique menu yet. I see their menu as too much oriented to Turkish taste, very conservative, and a rather ordinary menu with classic meat and vegetable dishes. It does not really give me the impression of a Michelin starred restaurant to be honest. Maybe I should try it again when Sergi Arola is in the kitchen…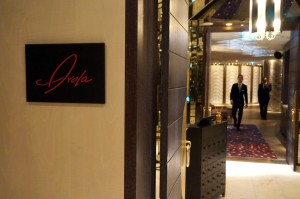 Evaluation: 6.5/10
Address: Raffles Hotel ZorluCenter/Istanbul
Tel:+90 212 924 0200