GİLE RESTAURANT
Have you ever tasted Turkish cuisine in Michelin standards? Until this summer, like the most of you, I would have given a 'no'. Fortunately, I found the opportunity to come across Gile this summer. In this avant-garde atmosphere Chef Cihan Kıpçak and Üryan Doğmuş created, I satisfied not only my appetite, but also my soul.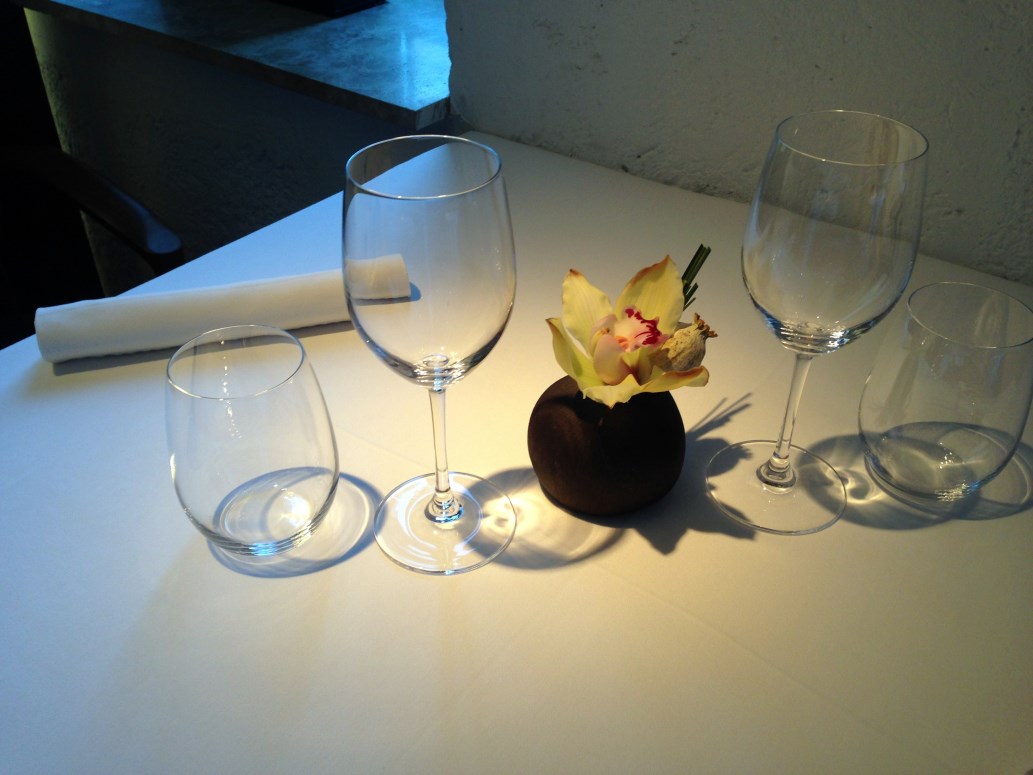 The decoration of GileRestaurant located on Akaretler is extremely subtle and light-coloured. There are paintings of several artists on their wall, and as the lights are directed right on top of tables, you don't get disturbed looking at your companion at other side of the table. Even the washbasins are beautifully designed here. You can see the effort put in this place even there.
They make their own breads and they generously serve several kinds of bread on your table. We find a chance to taste these breads with grape -walnut, yogurt and cheese-onion. I like the bread with cheese and onion the most. The olive oil they served is not very acidic and it doesn't burn my throat. The taste is quite saturating. Their butter is as tasty as the ones you find in Michelin starred restaurants in France; however, I find it a bit too salty. Another unique Gile taste is pickled apples. I like these sweet and sour pickles, because it doesn't bring a very salty experience. Thanks to these simple and light pickles, we had the chance of having a fresh starter before our main course.  By the way, I don't like the pate Circassian chicken they serve as their specials. There were little walnuts, and the appetiser didn't leave a lasting taste in my mouth. The next appetiser is duck pastrami. I like the pastrami a lot. It's light in taste and is not blended in too much salt. The carrot and mint balls next to the pastrami are also very tasty. Nevertheless, I don't find the combination of melon and rakı on this plate very pleasant. It seems as if tried a bit too hard mixing up traditional tastes with modern ones. Maybe I just couldn't get over the alaturca ambiance of melon and rakı next to these modern tastes.
Let the Feast Begin
The light coloured shrimps served in this dark plate come along with bell pepper coulis. They also have blueberry aside. Shrimps are smoked with the red pine, which is typical to Mersin, and is garnished with Karakuyu sea fennel pickles. These are also the cities two of the chefs were born. It shows their great loyalty to their origins. Later, I learn that Chef Mr Üryan is also from Mersin, like me, and I burst with pride.  And, I find a similar taste of laurel in karakuyuherb; it's a salty and tasty herb.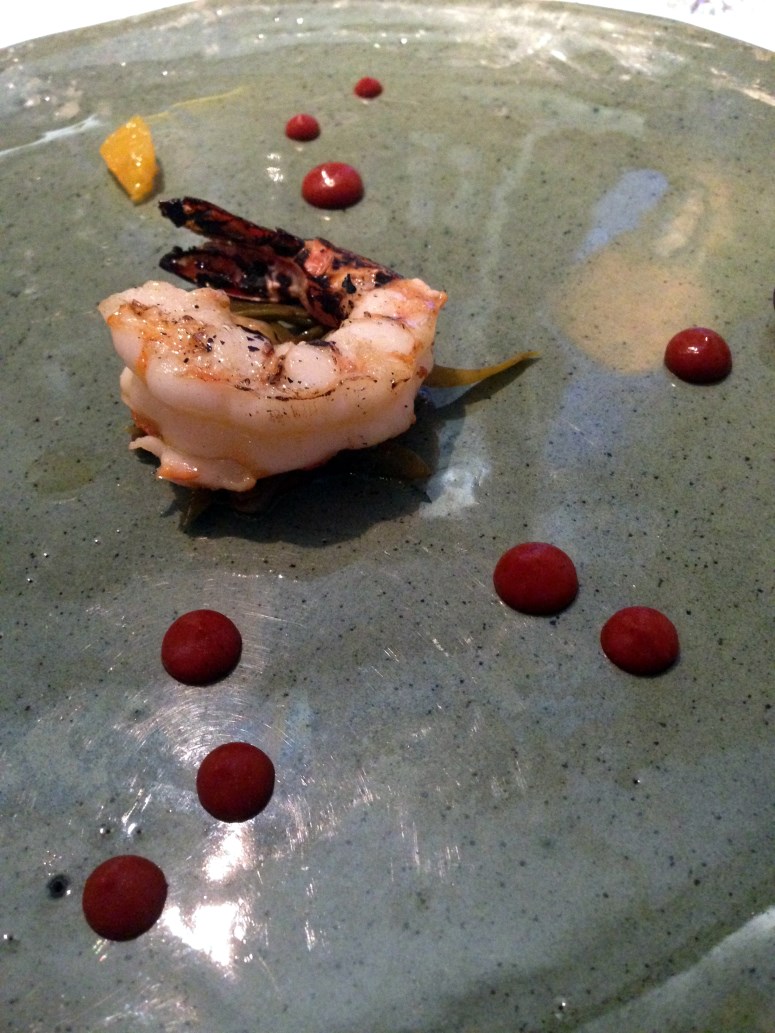 Unforgottable tastes
Eggplant puree served with küşleme enraptures my senses. Eggplant is not overcooked and the taste is perfect in your mouth. The humus accompanying the dish is a bit sourer than the usual taste of humus. The consistency is quite good and is not overwhelmed with tahini. Küşlemearrives wrapped in baklava phylo. When you put your fork through it, you hear the same crunchy noise. With this extraordinary innovation, the flavour tastes so great. The meat is soft and beautiful. They create a great duo with aubergine. This is how you combine traditional baklava with such a modern effect.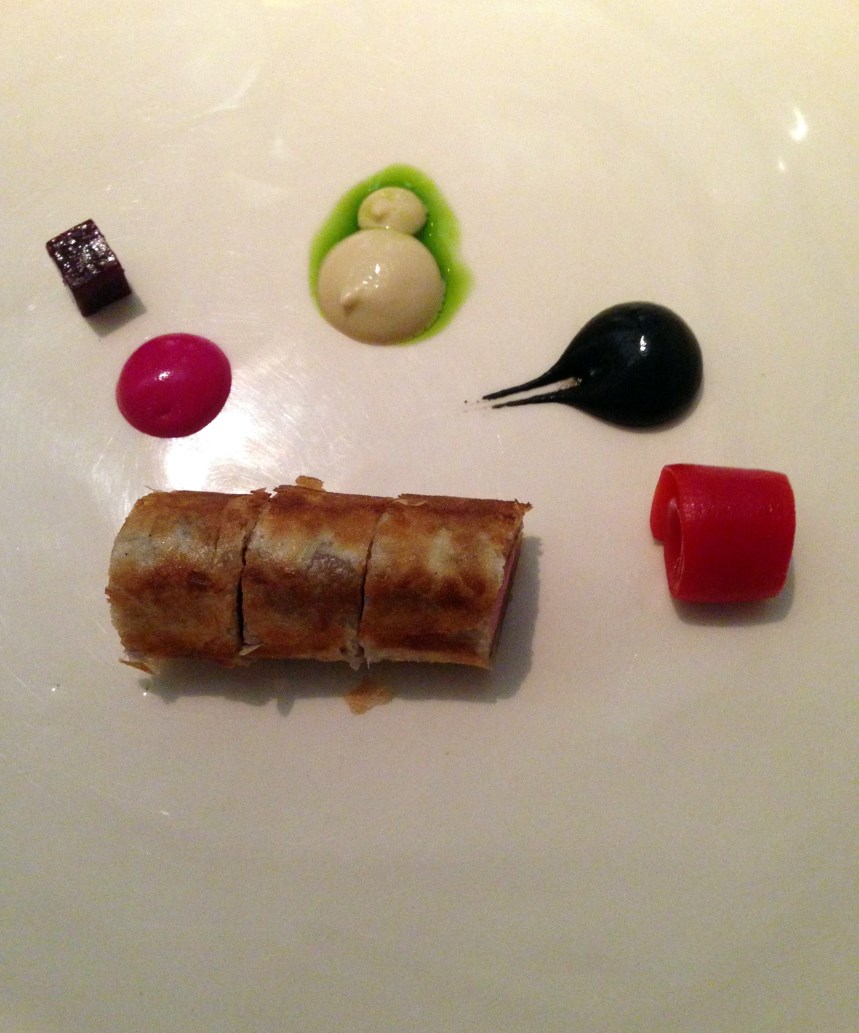 "7 Baharlı fish " is a unique and peculiar seabass dish served at Gile.  Next to the rock seabass, you see garnished tomato, roasted leek and potato foam with lemon.  This seabass is not like any other I've tasted before! Firm and juicy.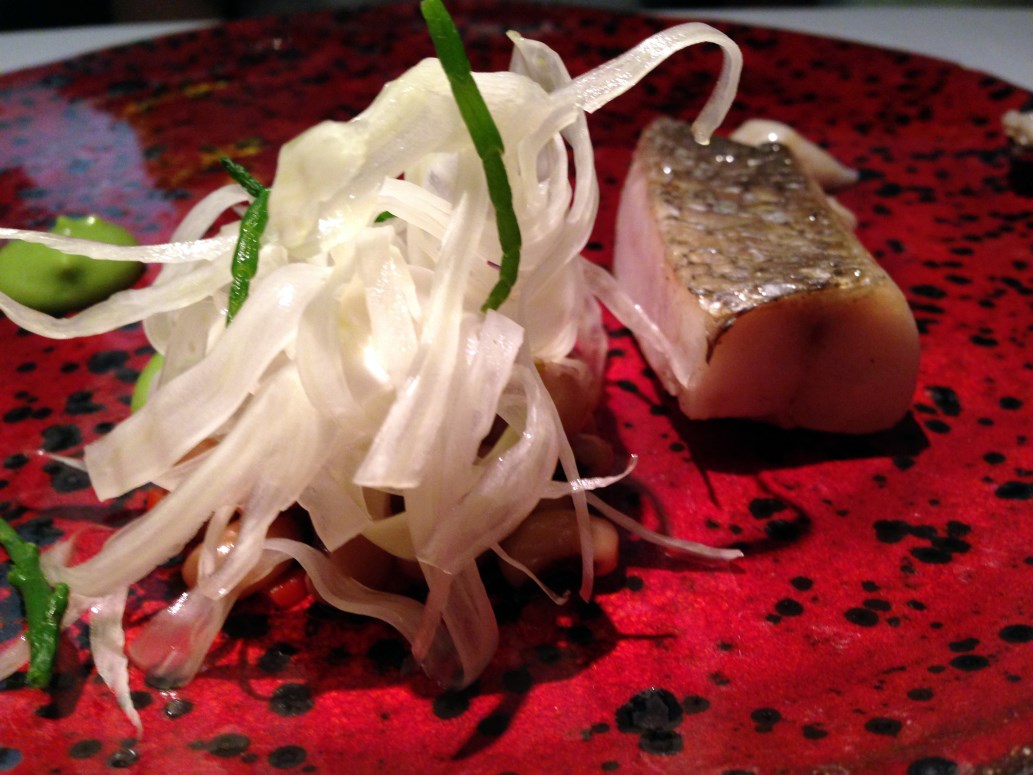 My next special is duck rested in +4 degrees for 21 days. It's presented with citrus and carrot scented couscous cooked in duck fat. There are some broccoli heads hidden in this couscous. Here, the meat does not meet my expectations and I find it too hard. The duck meat is not soft and fatty like the goose meat I had in Kars. It's similar kind of meat, however; the goose I had there was much tastier. Couscous is very delicious and has a very fresh taste. Sübye, the puree made of crushed melon seeds, adds another colour to the plate. Don't hesitate to eat this light sauce garnished with cinnamon, as I've read before that it contains huge amount of vitamins.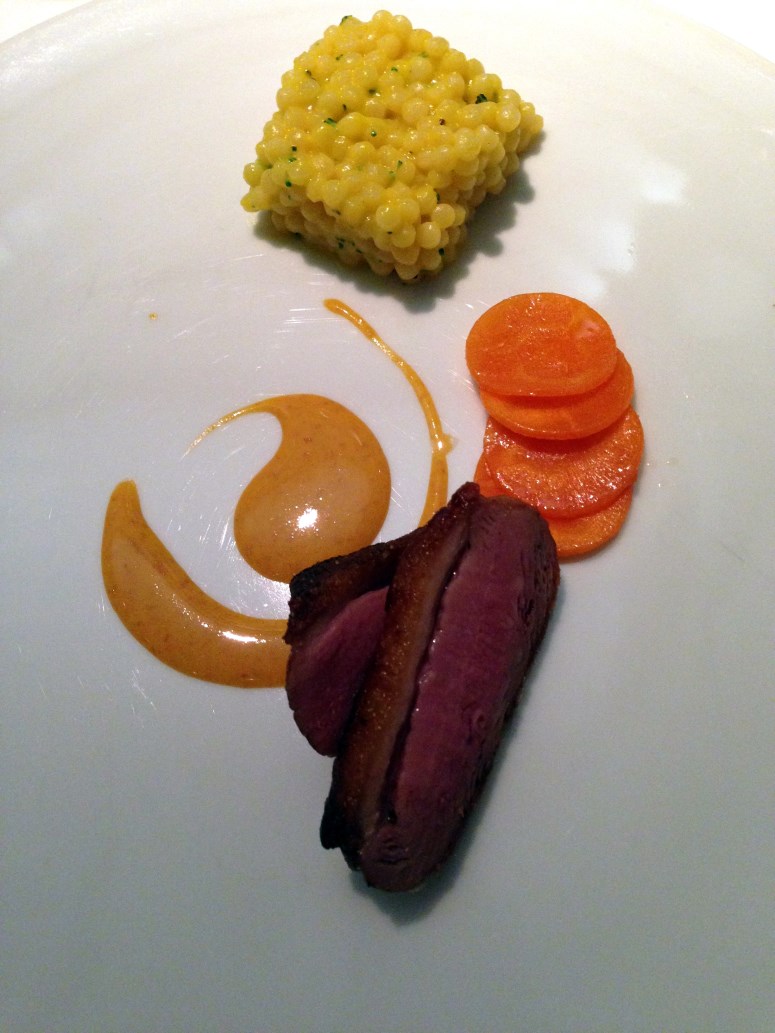 The main course is 41 Hr. Lamb shoulder cooked with Sous Vide. Sous Vide: It's a cooking method in which the food in vacuumed-sealed bag is cooked on low temperature. Therefore, the juice of the meat is confined inside and doesn't go way. Next, the fatty areas are fried and the rest is grilled in oven. There you have a masterpiece cooked with love and care! Get ready to taste this soft and delicious meat when you put your fork through it. It has a texture that falls into pieces in your mouth. It's a softer and of a more juicy version of Tandoori… Imagine that.
Another meal is aged beef sirloin rested in +4 degrees for 28 days. It is served with asparagus puree and apple confit. The harmony of apple and date is beautiful with the meat. Although it's not as soft and tasty as the lamb shoulder, it's tastier and more special than a sirloin.
Lastly, we move on to desserts. With its floral scents and light taste, Ayranpannacota will make you happy. I can't say the same thing for chilli pepper sorbet.  It's courageous, yet a bit too spicy hot. I reckon Kerebiç would have been a better choice with this wonderful meal…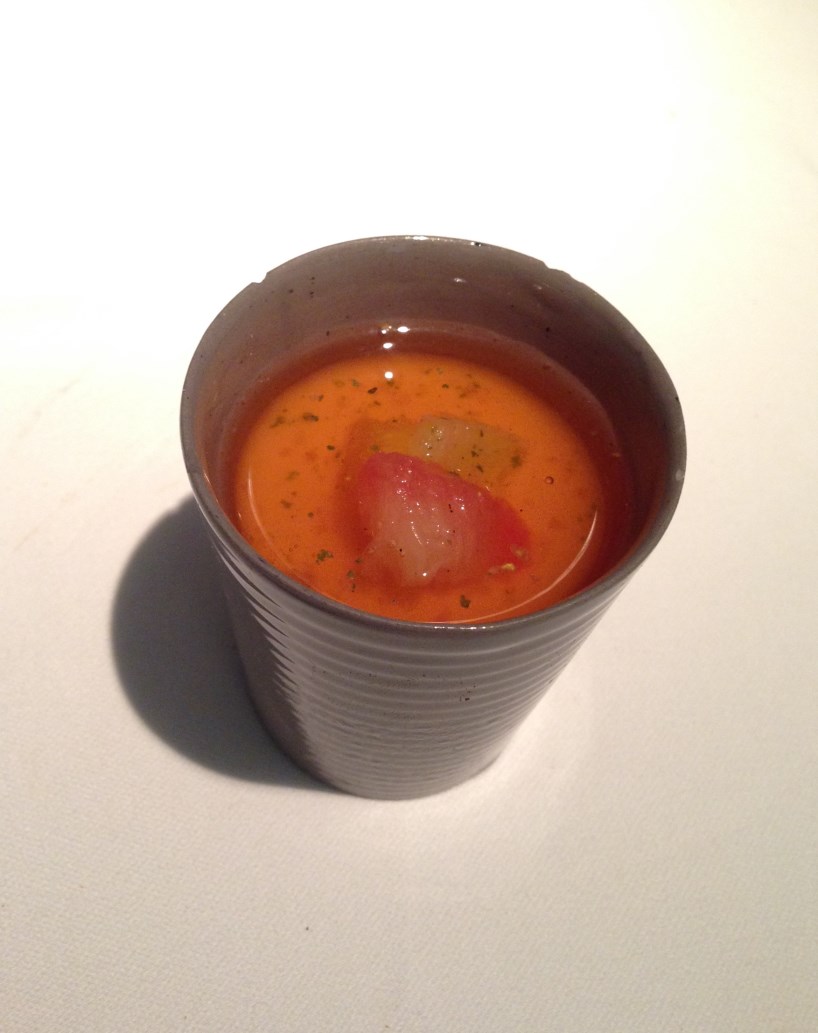 Evaluation 8.5/10
Address: Sair Nedim Cd Akaretler Sıraevleri E Blok No:14, Akaretler/İstanbul
Tel: +902123271166