A changing Neighbourhood
I believe the recent years are the indicators of how Çukurcuma neighbourhood have undergone a total make-over. Once a forgotten town, Çukurcuma got rid of its identity as a desolate place and has become perhaps one of the most popular towns of Istanbul with a new touch. Recently, I've had the finest bistro style food around here. Places turned into modern bistros with amazing settings put a smile on your face with the service of their friendly staff. One of these places is Cuma Cafe.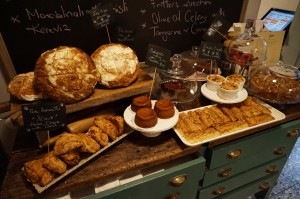 An Amazing garden with lovely animal companions
One of the best things about Cuma Cafe is that it has a beautiful garden. In this beautiful garden, you can read your newspaper or book, explore new tastes and have nice time with pets around you. Don't be sad if you don't have a pet at home. Lovely cats of Çukurcuma come up and try to get close to you.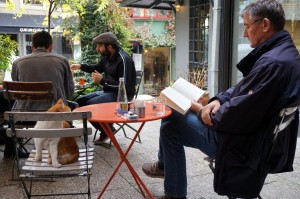 Cafe Cuma was arranged after the restoration done to a two-storey historical building. On the top floor, a modern sort of decoration is dominant. Everything is simple, but there's the beauty of this simplicity. There are beautiful tables among groups of people, and sections where you can feel at home. I must confess I'm impressed by the decoration of Cuma Cafe. This simplicity has won my heart…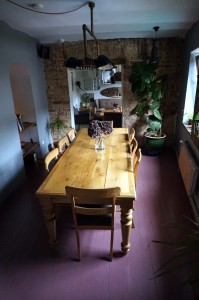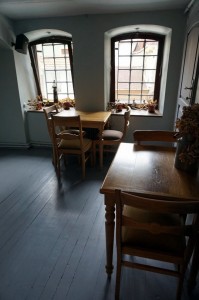 Actually this place is famous for their dessert. As I could get here only around the noon, I prefer to have lunch rather than breakfast.  Although I'm tempted by the eggs the ladies next table order, but I can't leave this place before tasting homemade ravioli with ricotta, once recommended to me on instagram. As I feel like eating something savoury, I order tabuleh salad with pomegranate sauce and blueberry.  Before the meal, they serve me a simple bread plate and acuka, which I love so much. Their acuka could reach to the consistency of muhammara with a couple extra touches. It's abundant in walnuts, and it's a delicious appetiser that has its characteristic pepper paste and sweet tomato. The success of this excellent bread is very important. Firstly, they are so successful that they can make their own bread in such a small space. Secondly, their bread recipe s not of an easy one as they choose to bake sour dough village bread. Their tabuleh salad is made of quite good quality ingredients. The consistency of the pomegranate sauce is dark and very striking. When the sauce gets mixed with tabuleh, it gives you the impression that you're having kısır (bulgur salad with vegetables), but with blueberry and walnuts, it gives you the hints of sour taste as if you're having a cake with cherry and walnut.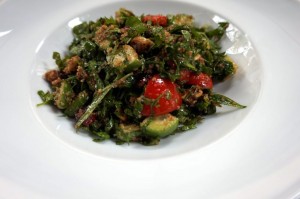 The filling of ravioli is made of the best example of ricotta cheese you can find in Istanbul, together with some pine nuts. Unfortunately, most of imported cheeses in Turkey are quite weak. What is worse is that they sell them at very fancy prices.  It's obvious that it's homemade even from the consistency of its dough. It's a medium cooked, and there's no exaggeration of the level of al Dante. The only problem is the exaggerated amount of lemon skin in its sauce. It's so sour that it might give you wry face.  I think it would be better if they reduced the amount of lemon skin in the sauce.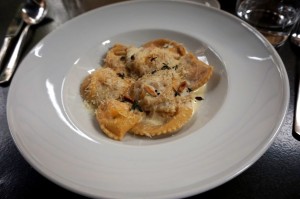 I've really enjoyed the hour I spend here. The food is the indicator of the successful path they're walking on. I feel really proud for seeing these young people, perhaps my peers, can take such solid steps on this path. I already miss the tranquillity in their little garden….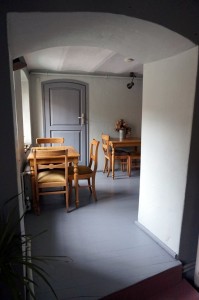 Evaluation: 7.5
Address: Çukurcuma Cad. No:51, Cihangir/Istanbul
Tel: +90 212 293 2062