The Constancy of Quality
If you ask me "Who are the chefs that deserve a Michelin star?", one of the first names I will think of will be Mehmet Gürs. The restaurant he owns is also one of the special places that I think deserves a Michelin star. What makes this place special is beyond the amazing view, rich cellar and tasty dishes it has. I'm talking about the main problem of fine dining restaurants in Turkey: constancy!
I've been a visitor to Mikla Restaurant since 2007. I was never sad spending the money I saved from my allowance to go to this place. Thank god, I can still come to this beautiful place and say it's worth all the money I spend here. It's still special to go to Mikla Restaurant as the first day I was here, and it's hasn't changed one bit.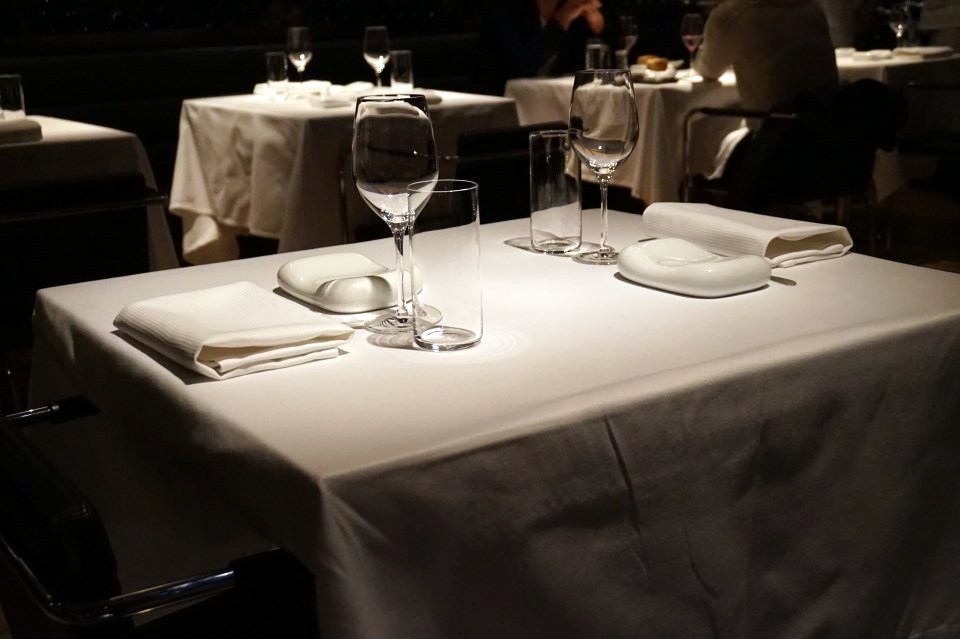 If you're in love with Istanbul, you'll also love Mikla!
Mikla Restaurant is located on the top floor of the Marmara Pera Hotel. As it has the one of most beautiful views in Taksim, it's also a feast for your eyes to come dine by this beautiful scenery of Istanbul. I'd recommend you to come and devour a couple of starters and sit by this incredible view. Then let the Mikla team come and stuff you in!
There are two different menus at Mikla Restaurant in the evening. One is "Taste Menu" and the other is an a la carte menu from which you can choose 3 varieties of dishes. My wife and I choose a la carte menu to dine. Therefore, we now have the chance to taste 6 different tastes. As amuse bouche, we're served chives on smoked grouper pate and crouton. A well-known French and Scandinavian vegetable, chives have a different yet lighter sort of smell compared to spring onions we know. I've encounters chefs using chives in potato in Europe. However, I think red onions suit potatoes better in general.
Mikla Restaurant uses their house olive oil. This olive oil from Edremit district has medium acidity and it's a high quality olive oil that settles well in your mouth, and creates great harmony with bread. Also their own product, the bread they make is whole wheat bread with fresh yeast. The level of sourness proves the quality of yeast. Although it's outstanding in terms of freshness, I can't say you get the wheat taste fully. In short, the yeast is good, but the wheat flour is not as good as the yeast. Perhaps the proportion of the flour can be increased slightly.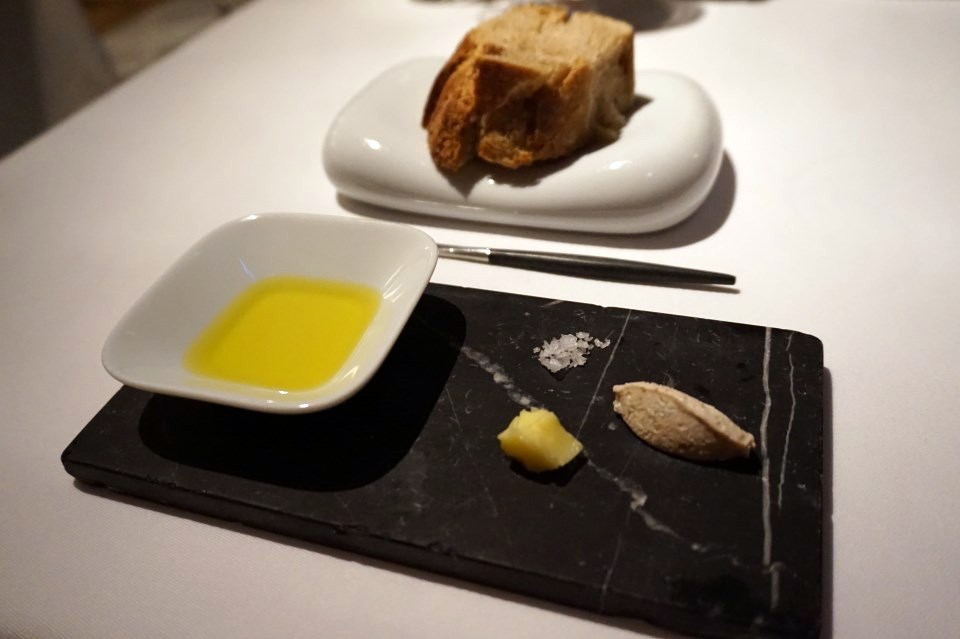 Tomato surpasses Octopus
My starter is grilled octopus served with cold tomato soup. I truly don't know where to start, the taste of those tomatoes… These sour tomatoes coming from Çanakkale are sour and organic like the ones I've had abroad. It seems that there are still natural and organic vegetables left in our country. At least for now… Unfortunately, the octopus is too tough; I can't associate this with the quality of Mikla Restaurant. By all means, it's not as tough as old shoe leather like the ones you eat at an ordinary fish restaurant; however, you expect something of better quality here. I don't taste garlic in tomato soup.For me, it's a good thing as there are some places in Istanbul where they turn tomato soup into garlic soup literally. I think twice before ordering this soup.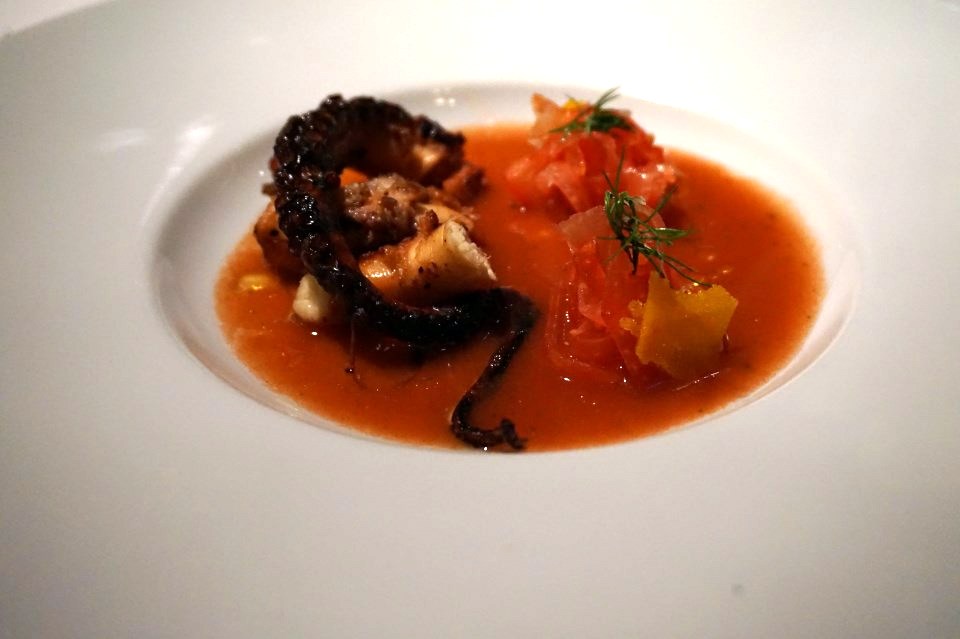 İpek's choice is salted and dried beef sirloin marinated with rocksalt, nutmeg and blackpepper and rested for a week. Accompanied with okra puree, the harmony of the duo is excellent. The sweetness and savoury of the puree is good. The meat is very soft. I had concerns that it might be too salty, yet I was wrong, and I happy to be so!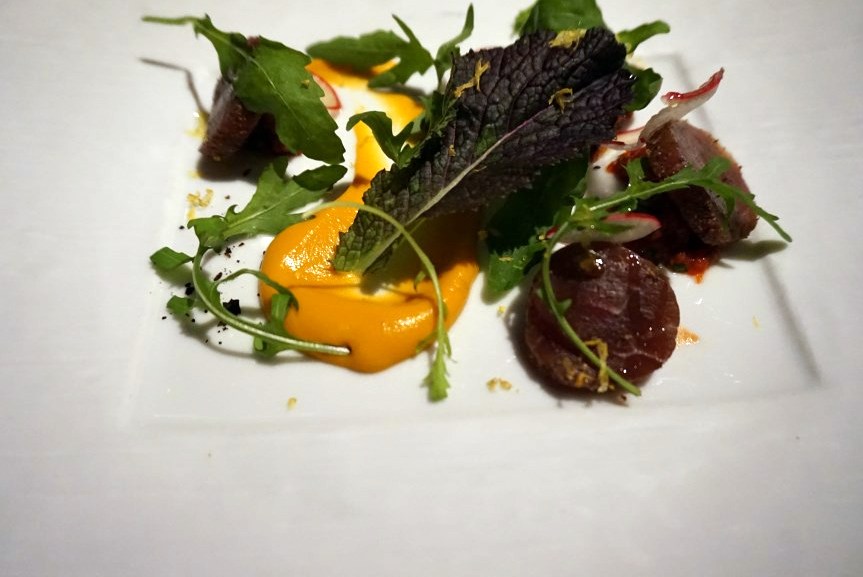 Grouper of Mersin, sauce of Istanbul
Grouper I've ordered as my main dish is cooked at 65 degrees with sous-vide method. I guess we've just missed the good season of this fish, as I think the taste of the fish is gradually decreasing. Now it's the season of bonito and loufer (blue fish). There are grilled tomatoes, ringed olives, and sea beans on top. I think fig vinaigrette, in other words fig vinegar really fits this fish. I suppose it's a great alternative for those would like to taste something else than the classic taste of lemon. Thanks to all these little things next to the dish, I enjoy the fish to the fullest. The harmony of this fish I love to eat in Mersin with the side dishes of Mikla is enchanting.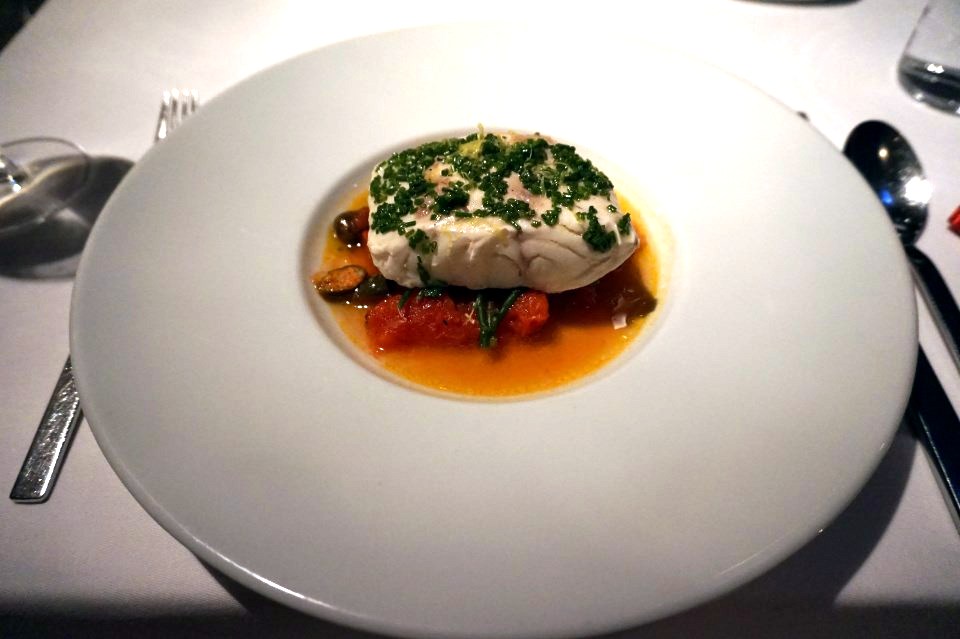 The effect of  Cumin in Gastronomy
My wife's choice, sirloin is cooked beautifully. They've served potato with cumin next to this fat sheep meat that melts in your mouth. I've been telling for quite some time that cumin fits sheep meat, yet many chefs who find this spice risky refrain form using it. I present my compliments to Mikla team for leading to this decision in the end. Spinach with green peas served with home-made pastrami(sucuk) is a brilliant side dish. We've ordered the second plate as it's the first time I've encountered the harmony of pastrami with a vegetable. The pastrami is almost non-existent, yet also still there. It's light, but very strong at the same time.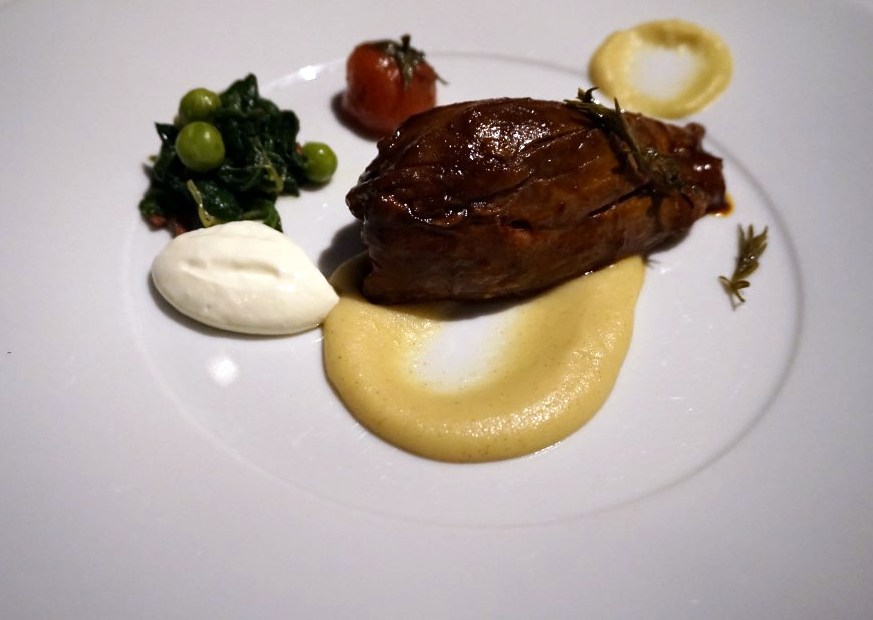 The search for original ingredient lies behind the success of Mikla dishes, and one of the Mikla team members is after this. This person goes all around the countryand visits all local bazaars and find the best ingredients out there. So it's not only the labour of the chef in the kitchen for creating these tastes. At the same time, it's the endeavour of the team that goes all around the country and spends time on roads fort he best ingredient. The quality of ingredients is outstanding. I must say I congratulate all behind this.
We order caramelised white pudding (kazandibi) with honey and roasted chickpeas and chocolate with yogurt. The white pudding comes with apple sorbet. On the bottom, there are roasted chickpeas with honey in yogurt with molasse. The ice cream that gradually melts in time accompanies white pudding as it takes all over the honey blended with chickpeas. The consistency of the pudding is not very dark. It does not turn you off. Another dessert is İhsanSiyezBulghurice cream with Malatya apricot comfit that is listed in the menu as Bulgur&Apricot. As soon as I taste this, I think it's the ice cream form of "boza"(a thick, slightly fermented millet drink). The pistachios are nice, but the icecream is not that interesting in my opinion.
The Throne of Signor Sassi is taken over
The dessert with chocolate is my number one. They put yogurt cream on top of bitter chocolate bar. This adds a slightly creamy and sour taste in the dessert. The strawberry sorbet served with this dessert is one of a lifetime sorbets I've tasted after the lemon sorbet I've had at Signor Sassi in London. If eaten in season, I'm sure this can excel the taste of lemon sorbet.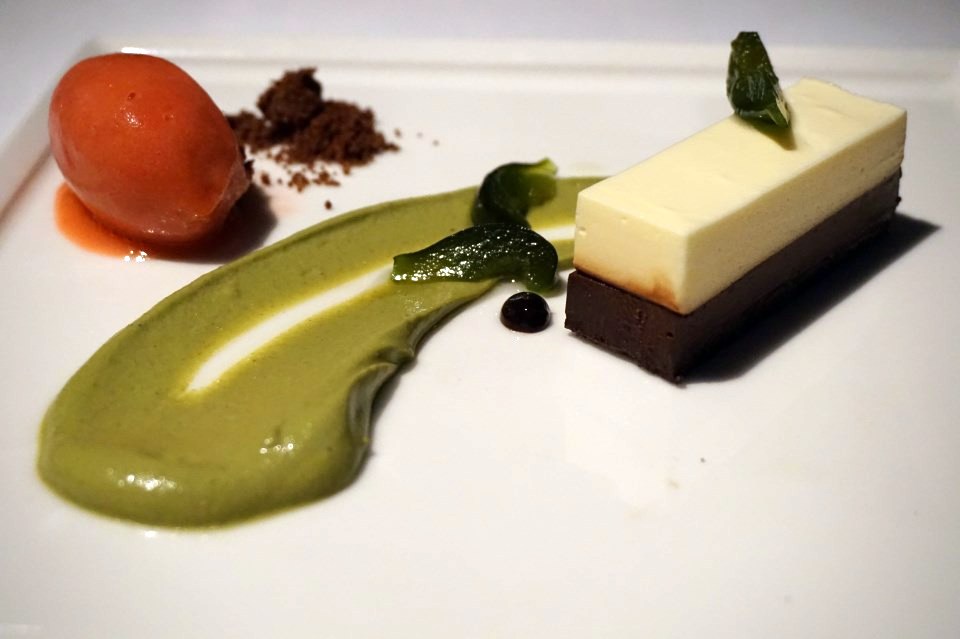 As the 90% of their customers (this is the percentage the waiter informs us) are tourists, it's kind of sad that it's not favoured by many Istanbulites. While we have these places that make amazing dishes, we often look elsewhere for this kind of good labour. This includes taste-lovers like me. As I dine at Mikla Restaurant Taksim, there's one thing that disappoints me: I keep asking myself why I haven't come here for a long time…
Evaluation: 8.5/10 
Address: The Marmara Pera, Meşrutiyet Cd No:15, 34430 Beyoğlu/İstanbul
Telephone:(0212) 293 5656