Star Wars in Prague
There are only two restaurants in Czech Republic's capital, Prague, with Michelin stars. One of them is La Degustation and the other one is Alcron. They are both working really hard to do their jobs properly. In some years one does better, whereas the other one takes a step forward in other years. Of course, having restaurants that are following them up real close is also a reason why these restaurants try hard to improve themselves. The fear of losing their stars or falling behind makes them constantly improve their kitchens. I visited both restaurants in Prague. La Degustation was a big disappointment. I certainly am not giving them my own star.
Impressive Decoration
La Degustation is at a place that is pretty close to the old town of the city. You don't see the splendor of a Michelin-star restaurant at the entrance. Don't question yourself after looking at the place from outside. Once you get in, the atmosphere is really impressive. But the reason is not high ceilings or fancy furniture. On the contrary, the thing that impresses you is the simple elegance of the place. From its menu to the service, La Degustation is a temple of simplicity. It makes you feel like you are in a Scandinavian country. The best thing is that they have an open kitchen, a concept that I started looking for in more restaurants. If you sit close to the kitchen, you can watch the preparation of the food you ordered. Unlike most kitchens, chefs are working around the same table, thus creating a sense of team work, which looks really nice.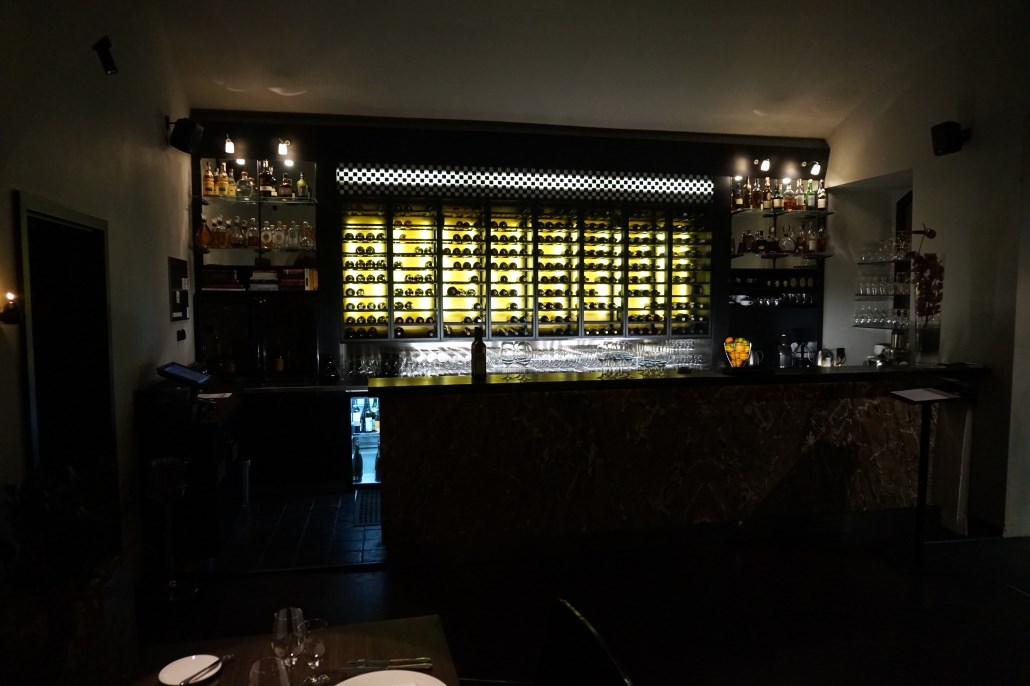 The Interesting Aspect of the Menu
La Degustation welcomes you first with a hot towel. This warm, scented towel helps you warm your face after the freezing weather of Prague. And its scent makes you feel good about yourself before the meal. These kind of little gestures used to happen at fish restaurants in Turkey but I don't see it anymore. Perhaps it was cut as a part of saving money plans.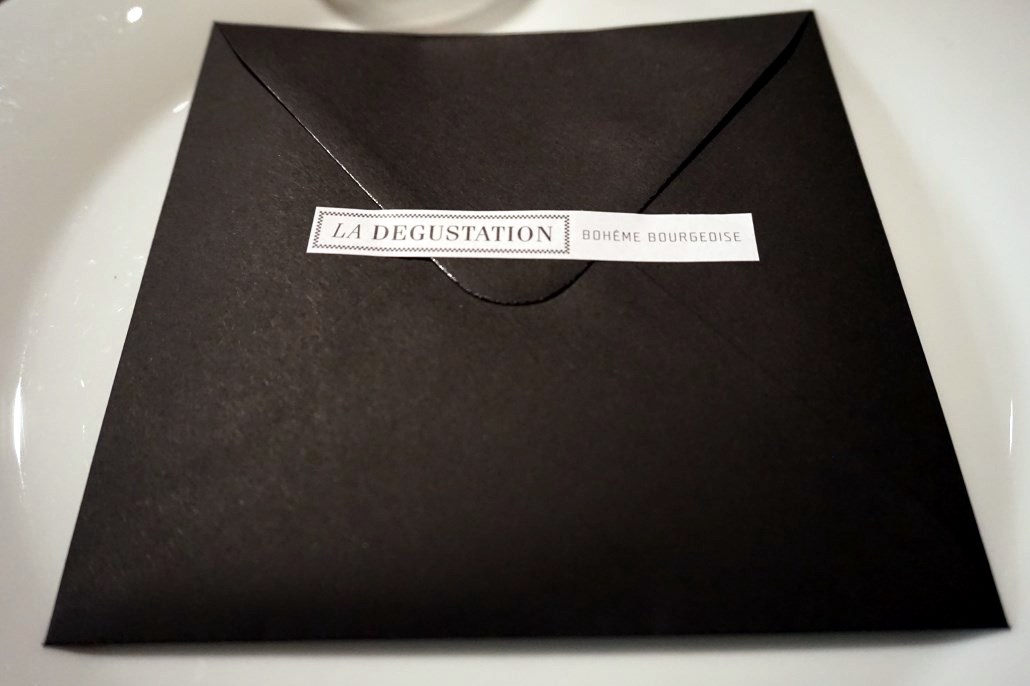 The menu consists of two different tasting menus: La Degustation BohêmeBourgeoise and La Degustation Du Chef. My wife and I ordered BohemeBourgeoise as we thought 6-dish menu would be enough for us since we've been eating on Prague streets for lunch. It's worth noting, if you're not hungry, this menu is enough to keep you full. They are not stingy with their portions. The interesting aspect of the menu is the way they present it. Instead of leather-covered menus, they use simple black and white envelopes. 6-dish menu is 75 euros, 11-dish is 110 euros. If you'd like to have drinks with the menu, you'd have to pay an extra 45 euros or so.
Chef Oldřich Sahajdák and his kitchen
Chef OldřichSahajdák is an unlucky chef with the difficult mission to re-create Czech cuisine with new ingredients. He is trying to recreate the food culture and dishes that were gone during the Communist regime. And he has to replace the old, forgotten ingredients with the new ones while doing so. According to what he said, Czech chefs used to be as popular as Italian and French chefs but with communism, this popularity was lost. But now there are opportunities for them to come back. La Degustation is one of those revival kitchens. Although you can't find the old dishes anymore, the dishes served here carries the touch of Czech cuisine.
I want to talk a bit about the beef steak tartar they served as Amuse Bouche. It is prepared by grounding beef with knives, then adding cheese. This mixture is put in between two thin slices of crispy bread. The interesting thing is that, though it's raw, it tastes similar to kebab as they are prepared in similar ways, and rather than the taste of ground beef, you get to taste the beef particles.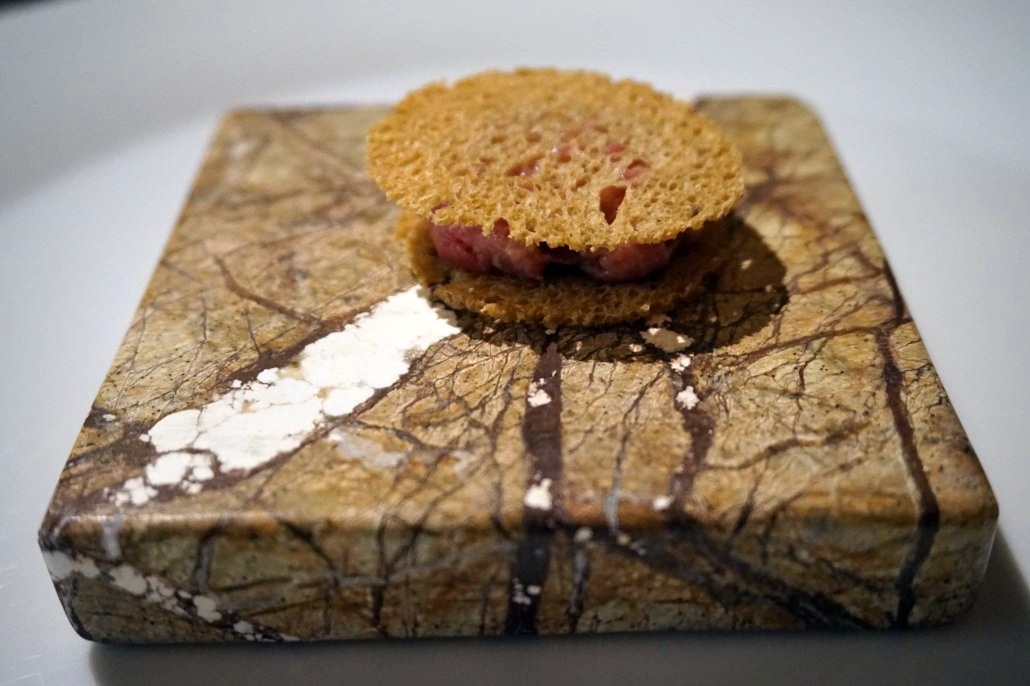 The next course is spinach with garlic and a snail dish on leek puree. The walnuts in the puree are from South America, I think, and the taste was quite weak. Unfortunately, it's inevitable to experience that every time you eat something with walnut in Prague. But the puree was still pretty good, despite the tasteless vegetables. It's a well-balanced side dish. The snails, on the other hand, were not of French quality. They were tough and flavorless. It's probably about the ingredients they used. I'd much rather eating a different entrée.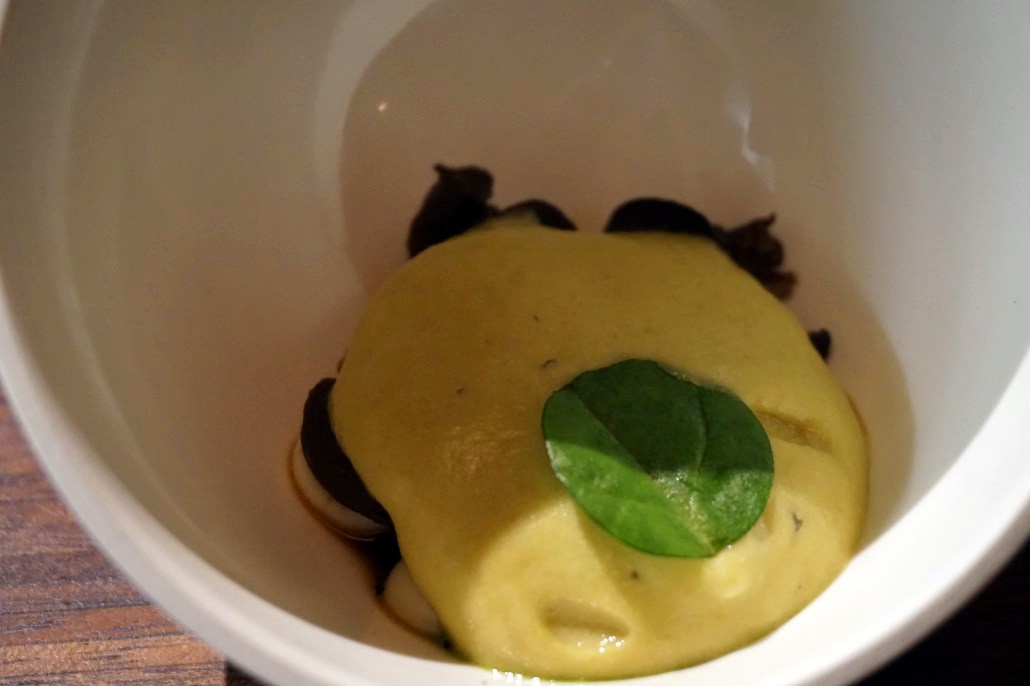 One of the most memorable dishes of the night was the pumpkin soup with cream. Normally they put pork in the cream but they made an exception for us. While eating this soup, there was one thing that kept coming to my mind: Even the simplest things taste better with the local ingredients. Czech pumpkins were very delicious. And this is the reason why the snail dish wasn't good. This soup reflects all the flavor of pumpkin and you get to witness how the taste of cream affects the pumpkin. Czech people use this sweet pumpkin in a lot of meals. Since this vegetable grows better in a cold climate, Czech pumpkins are really tasty. And it changes the flavor of every meal when it is put in.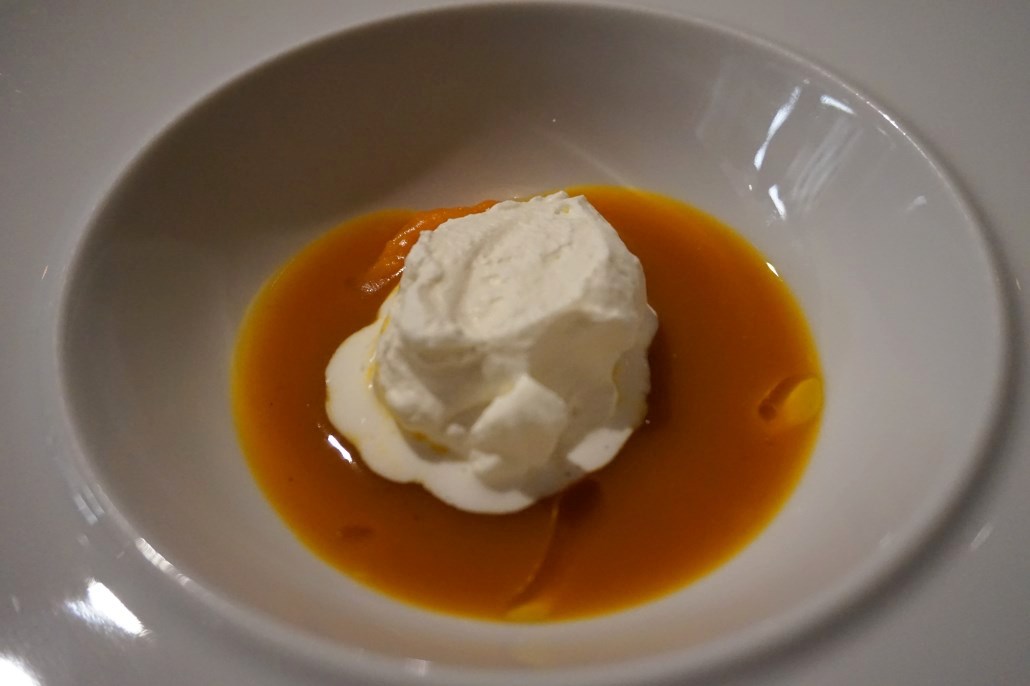 Weak Quality of Fish
Trebon catfish that is enriched with Czech flavors such as cabbage, radish, and yeast, was a first-time experience for me. I couldn't compare it to any kind of fish that I had in Turkey. That fish is from the Trebon region of Czech Republic, from their fish farms. I thought the taste and flavor of this fish were quite weak, though I also learnt that this particular species is under the protection of European Union.
Inconsistent Main Courses
The onion dish that was served as the main course was a complete fiasco. It upsets you when you encounter a simple onion dish at a place with a star both because you pay so much to eat there and that the flavor of the dish is nothing compared to what one might expect to find. Basically, it was a dish prepared with red onions, green, and regular onions, with some pear slices in it. Though they did not look or taste like pear because they were cooked in an oven and made completely dry. There is not much I can say about this dish. I think it didn't belong to the menu. But my wife thought it was good. Perhaps it's a matter of different opinions.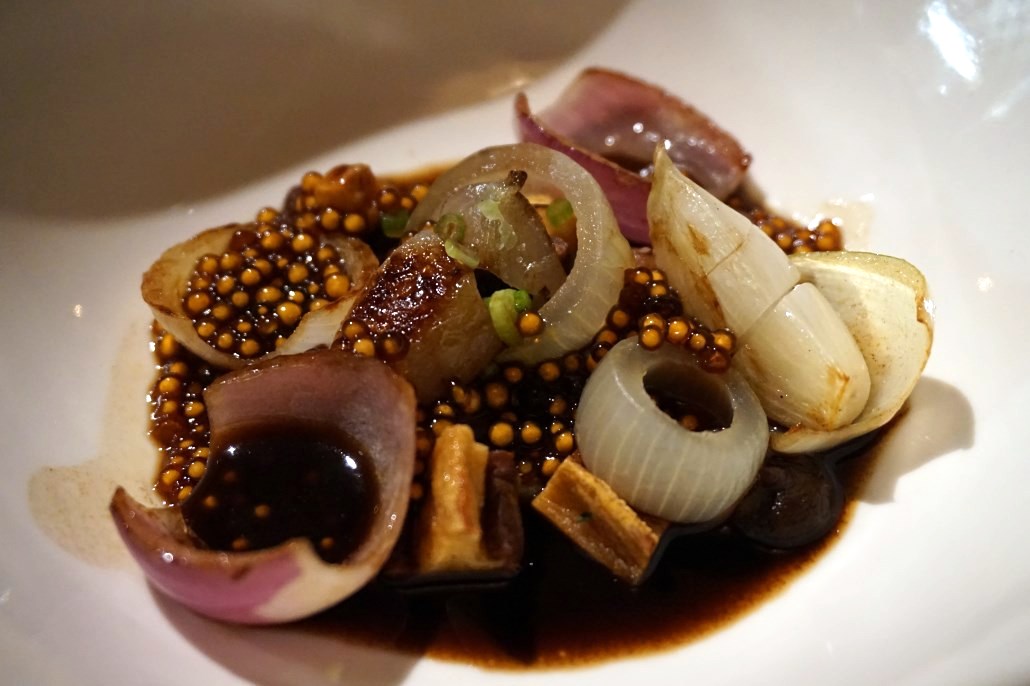 The next course is stepanovsko chicken, served with horseradish and popcorn. The chicken's thigh is cooked with sous-vide method, and seasoned with rosemary, thyme, and juniper leaves. Underneath the chicken, there was barley rice. Horseradish sauce, another Czech flavor, enriches the meal with light mustard bouquets. While the onion dish was extremely simple, this dish was definitely at Michelin standards with the variety of flavors. The chicken was juicy, slightly pink but not uncooked, with a crispy finish to the top part. The only thing I couldn't understand was the popcorn. I don't know why they put it there. Barley rice, on the other hand, was quite rich and had a good flavor to it.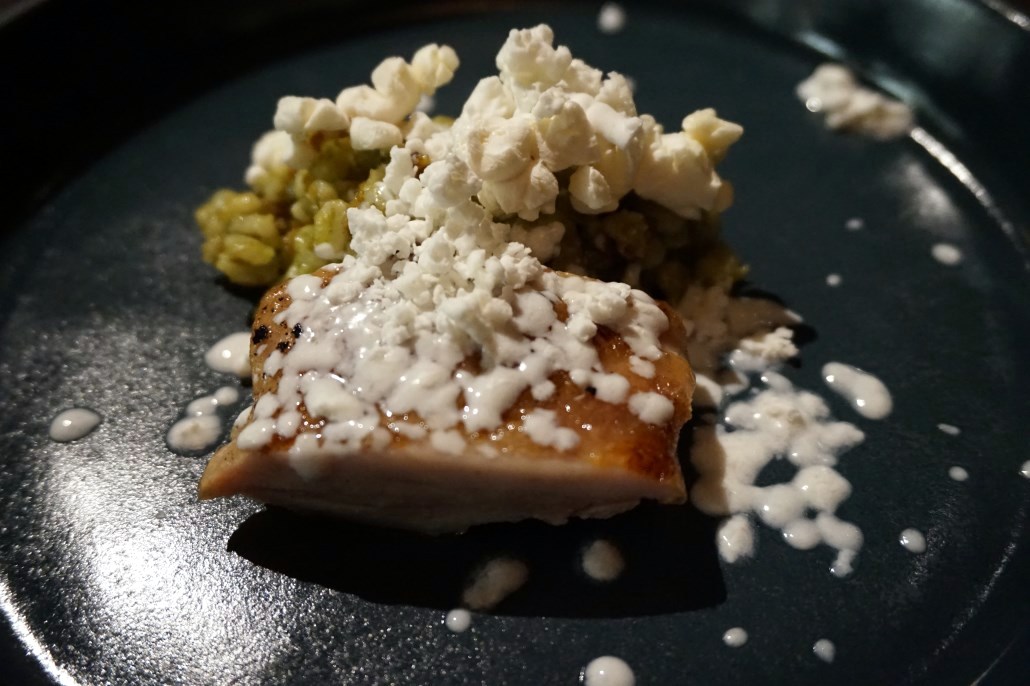 The Most Interesting Dessert I've ever Had
I'll remember La Degustation as the place I've had the most interesting dessert in my life. They put a secret chocolate sauce in potato puree. On top of it, there was a hot sauce prepared with defrutum and raspberries. Defrutum is a sweet sauce, thick sauce, made by boiling grapes. Underneath the potato, there is another hot layer of milky chocolate. This sweet, highly acidic sauce tastes very good with the potato. I think chocolate might be representing the way Western cuisine infiltrated Czech ingredients.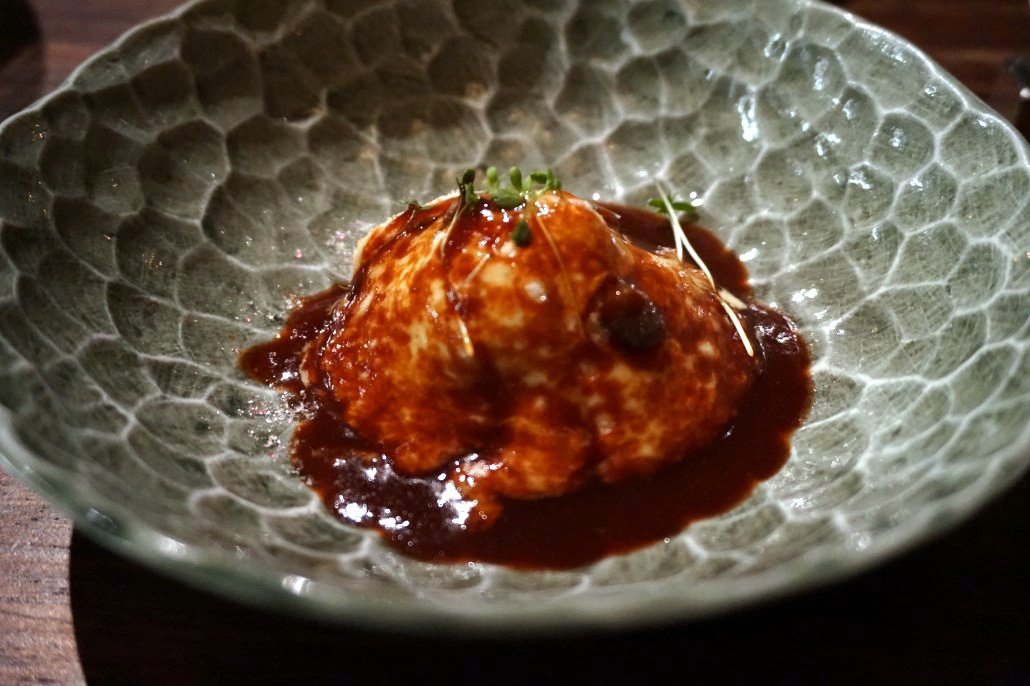 La Degustation absolutely meets the standards of service, hygiene, and concept of a restaurant with a Michelin star but I can't say the same for the taste. Except for the pumpkin soup and the chicken dish, there are no unforgettable flavors in their menu.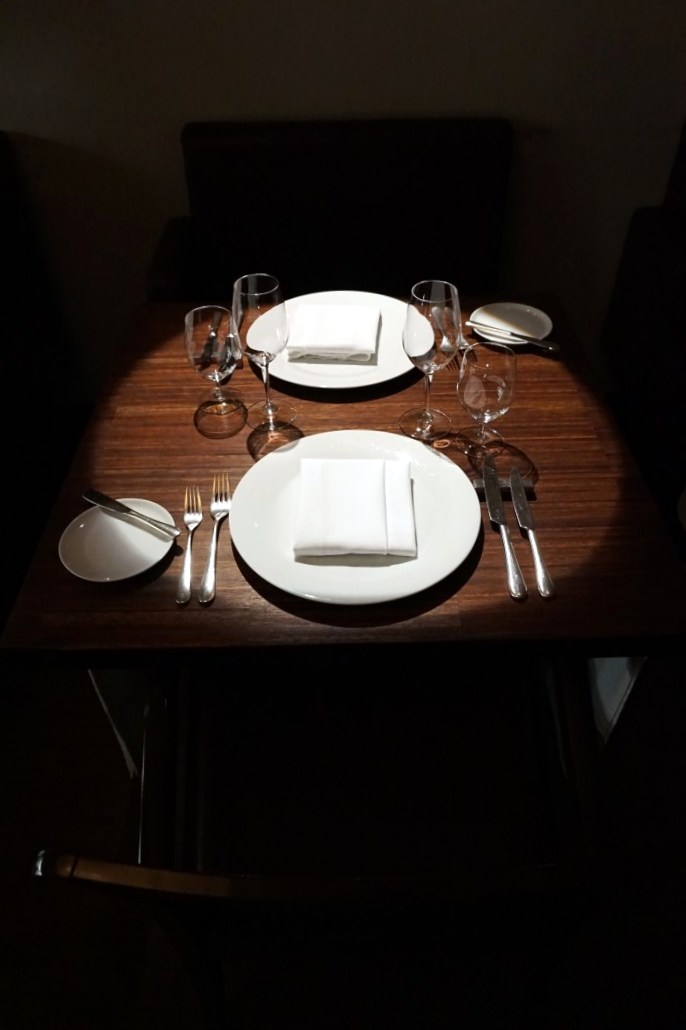 Evaluation: 6/10
Address: Haštalská 18 110 00 Prague 1 Czech Republic
Telephone: +420 222 311 234