Joy of Pizza in Wood Fire
There's a place in Emirgan where you probably walked across many times and had no idea what's going on inside: Pizza Emirgan. Their marketing is based on remaining a secret place. There is a sign on the right top of their menu warning not to take a photo. It's an interesting approach. Who knows, maybe this approach works better than advertising the place….
Eating- not a very good service
Pizza Emirgan has a bunch of different pizzas, good starters as well as main courses. The best thing is their wood fired oven. It's such an oven that keeps giving out its smoke while you're waiting for your food, and it makes you smell the happiness of eating at a good quality place.  My wine and I order two pizzas. I order a pizza with bresaola, as I've heard theirbresaola is quite good. My wife orders a pizza with Melanzane, as we'd like to see how the tomato and aubergine based sauce takes effect on the pizza dough.
Bresaola is cut quite thinly, and is made of good quality meat. It's a meat they prepared honestly, and it's not blended in too much salt for preservation. For the quality of meat, I find it a quite good one. However, the quality of the rocket doesn't match with the taste of meat. Their dough is not Italian standards: it's not thin and crunchy. Dough at Pizza Emirgan has more flexible texture, and is made in soft forms. The smoked smell is not overwhelming, however you can't cut through the dough easily. It will be a disappointment for crunchy pizza lovers, and that's just like how I felt…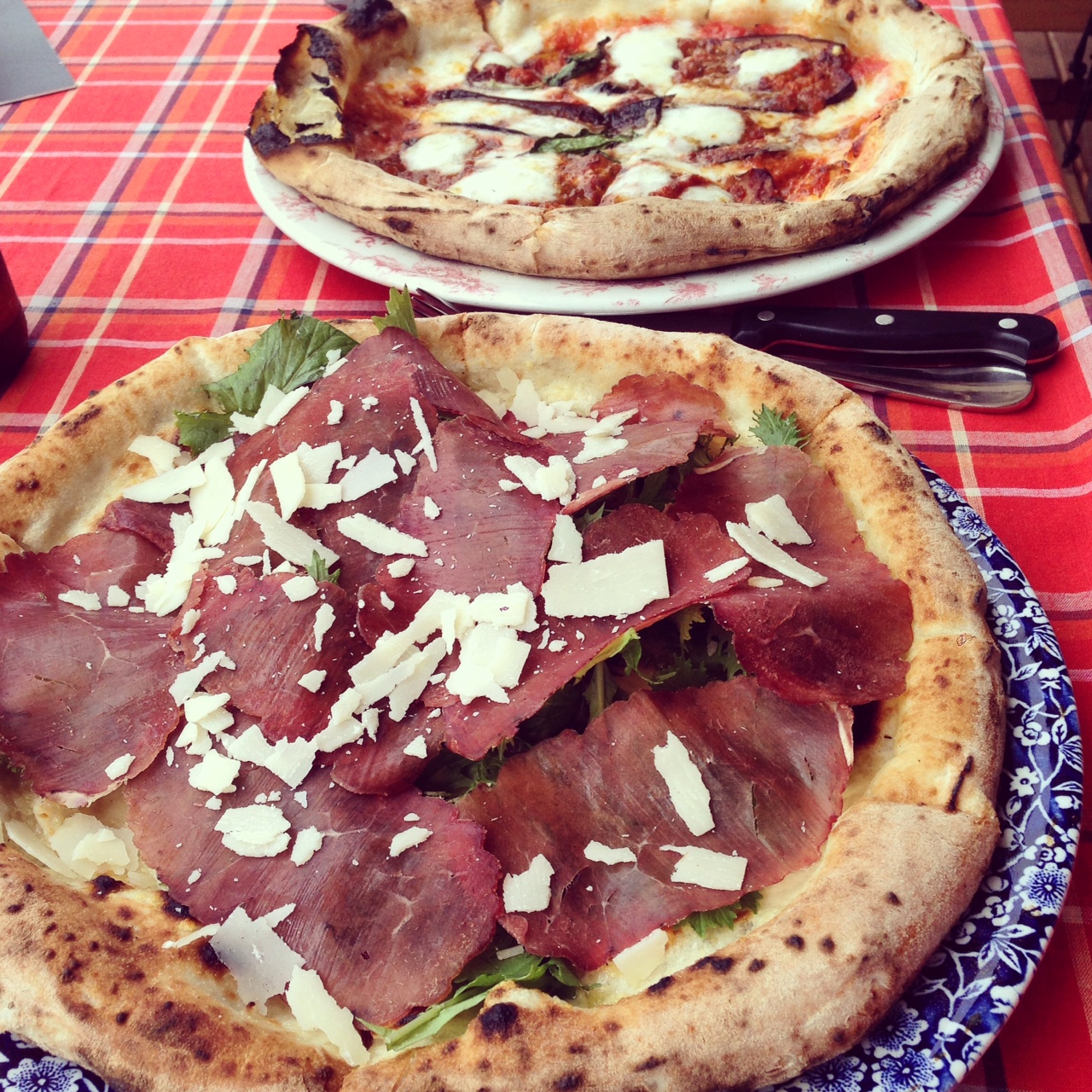 I definitely suggest their Melanzane pizza for those who like veggie pizzas. The sauce has quite a good tomato base with again very well chosen aubergines. It's as good as the ones I've had in Europe. The tomato sauce does not bother you, as it doesn't ruin the form of the dough. I suggest that you pay attention to the sourness while eating the pizza. You can't get hold of the sourness of tomatoes like this everywhere!
I hardly held myself back not to try the newly cooked tiramisu they had. It's usually a disappointment to have tiramisu in Turkey.  I ordered this one thinking that maybe it's different this time, and I should also say, because I fell for its fresh look on the tray. The result: again, a standard taste. Tiramisu made with baileys is nothing but taking an easy way out for this place… I was a bit dissatisfied with their service. They are rather slow. Let's hope it's just sunday laziness…
Evaluation: 6/10
SakıpSabancıCaddesi No14b (EmirganSahili)
İstanbul
Tel: 0212 277 88 87