Aromi: Italian Food in Prague
Before writing a review of Aromi, I'd like to share a few observations about Prague that surprised me quite a bit. Although Prague is such a cold city, somewhat stuck between its European "older brothers", and gastronomically speaking, wounded by the communist regime, it is still moving, though at a slower pace, alongside the new world. You can find examples of many different cuisines here, but among them, Italian restaurants are the best. These restaurants are decorated with true Italian spirit and since it's easier to bring the ingredients from Italy, they make their food with real Italian ingredients, following authentic recipes. Aromi is one of those impressive Mediterranean restaurant.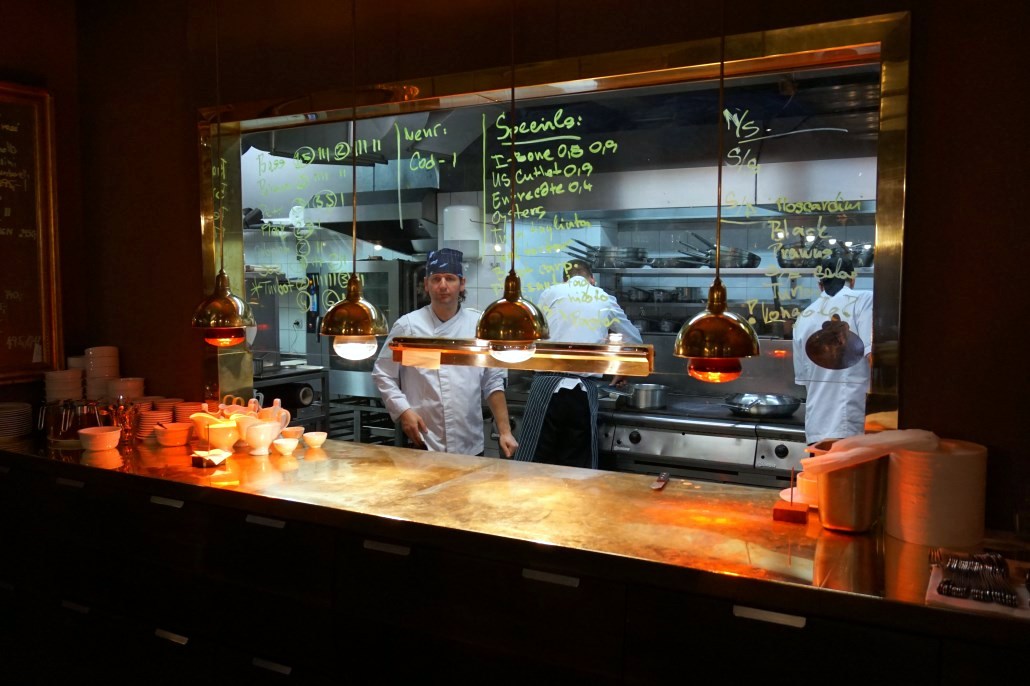 I Feel in Rome
As soon as you walk in, Aromi captivates you with its warmth. It resembles the Italian restaurants we're used to seeing with its use of red, white, and green, big family tables, wine bottles, and Italian songs in the background. They exhibit the best samples of Italian alcoholic drinks and Italian cheese of incredible quality on a big table. Along with various types of olive oil, you can also look over different balsamic vinegars in this restaurant. Not only do they give you a visual presentation, but also information about Italian food culture. It is a wonderful gesture for the country's promotion. It makes me feel like I'm eating at a trattoria in Rome.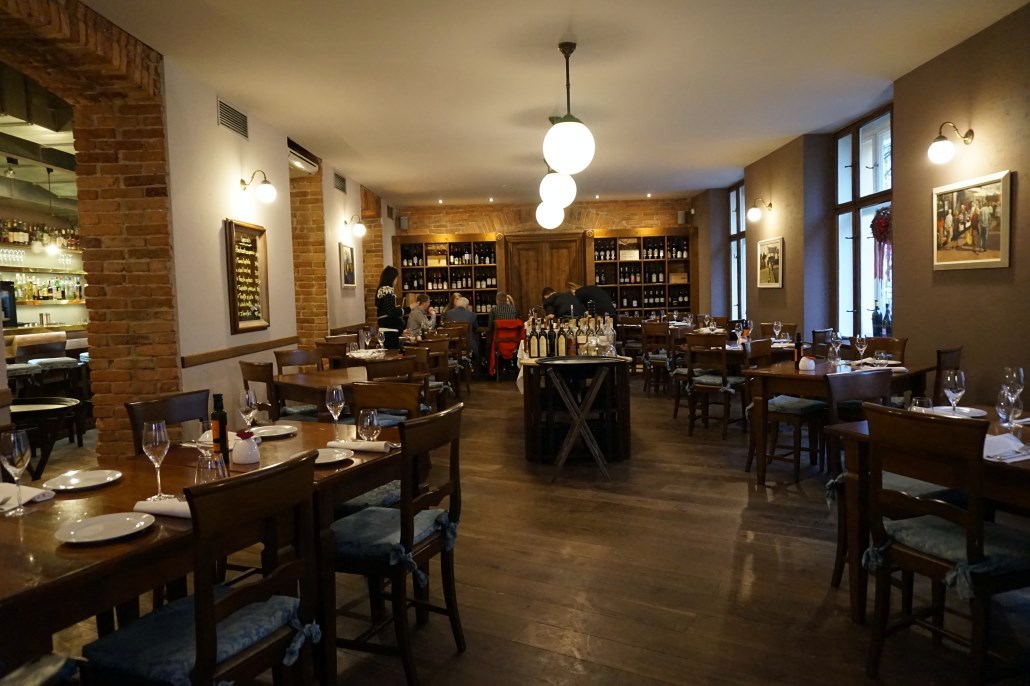 Memorable Pasta Dishes
Although this restaurant is famous for its fish dishes, we decided to order more regular food for our lunch, but their fish is of really good quality and served meticulously at your table, by strong Czech women who speak really good English. You eat the fish you choose, and see how it's cleaned with your own eyes. What would people who assume Italian cuisine is made up of only pasta and pizza think of those scenes, I wonder?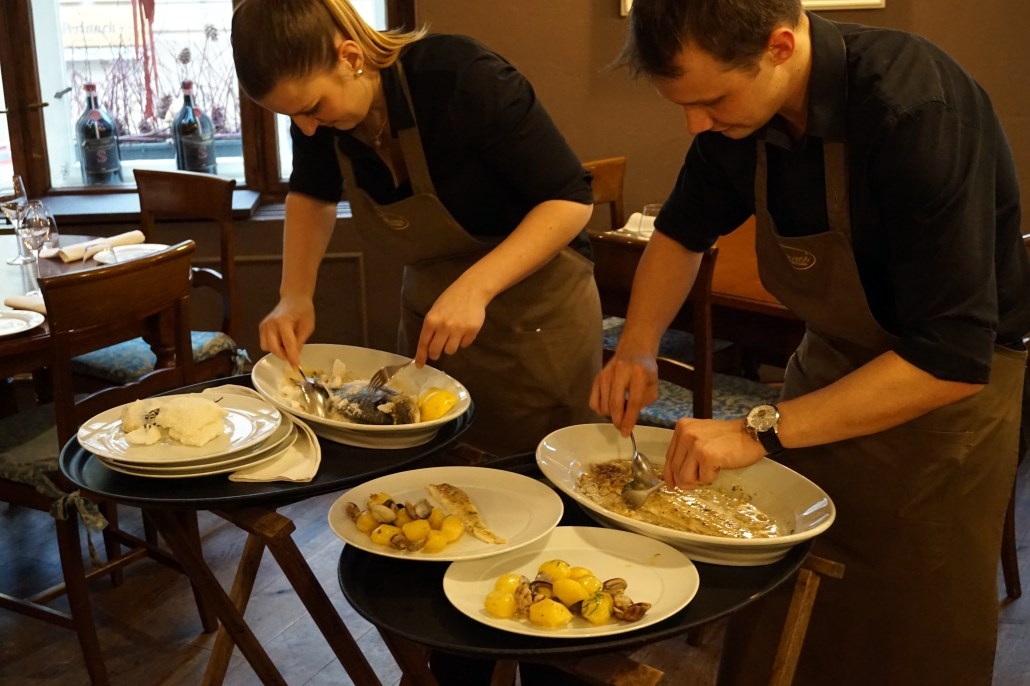 Both my wife and I ordered pasta since it looked like a good option for both of us. One was Fusilloni Radicchio Treviso and the other was Pappardelle with duck ragu. One of the reasons why I chose these two dishes was my curiosity of radicchio plant. I wanted to see what kind of flavor this beautifully-colored Italian plant would bring into a pasta dish. As for pappardelle, I simply wanted to taste it because I've been satisfied with the Czech's duck meat every time I tried it. In short, it was the ingredients that made me choose.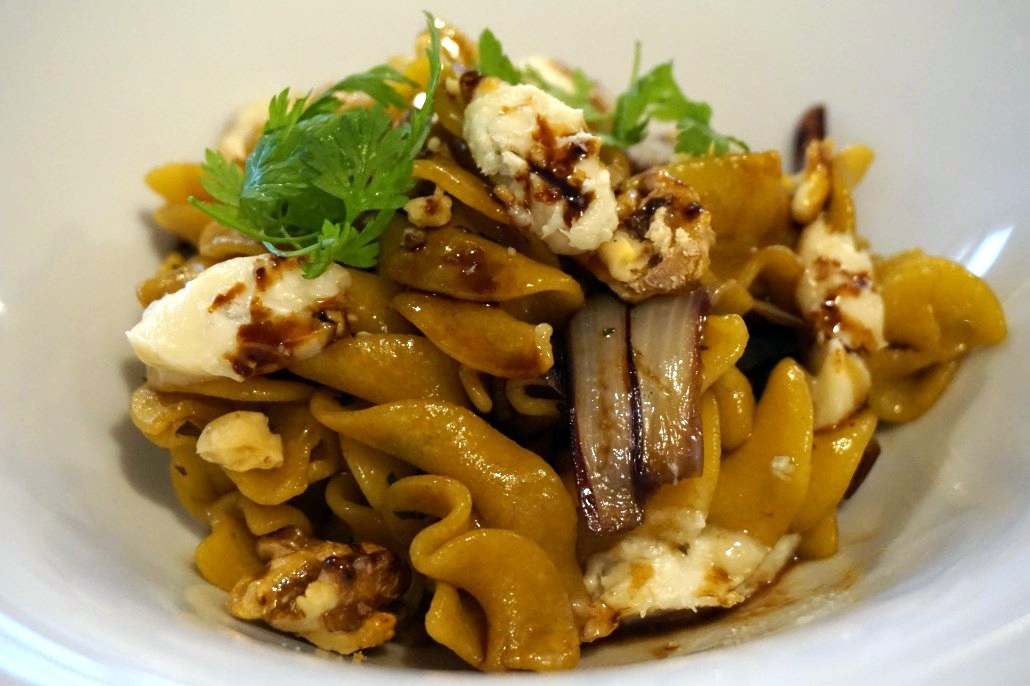 Though many people think that radicchio of Treviso region is a kind of cabbage, this vegetable is quite different from cabbages. Its flavor is more prominent than cabbages, with spicy and bitter tones. It's hard to describe but this vegetable goes very well with walnut, hazelnut, and cheese. Fusillioni, on the other hand, has a texture that hold the cream well, and puffs up as it's boiled. It was covered well with the gorgonzola cheese sauce. With the harmony of walnuts and radicchio, this dish was top rank. Aromi chefs know how to create harmony in food. The head chef was MiroslavGrusz when I visited there, and the sous-chef was Petr Spejzl. The only problem, though, was that the sweetness of the sauce was a bit exaggerated. It bored me even in the small portion I ordered. I can't imagine what it would do if I were eating a bigger plate.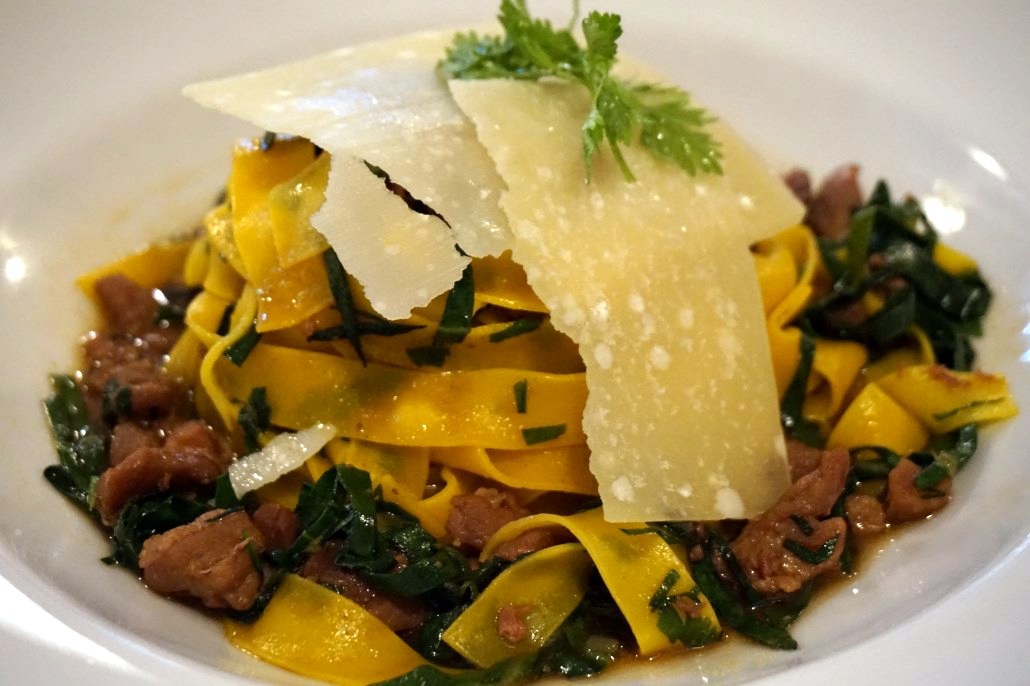 Pappardelle was quite successful in terms of its dough quality and the way it was cooked but I can't say the same things for duck ragu. It was cooked in very small pieces and I think that made it dry. I couldn't find the richness of flavor I experienced with Fusilloni in this dish. If you ask whether the swiss chard and duck stew go well together with this pasta, my answer is: No!
Pheasant Meat is Above-Standard
To have a bit of variety in the midst of all these pasta dishes, we also ordered pheasant breast meat for ourselves. The meat is left slightly pinkish and served with mashed pumpkin, an indispensable element of the Czech cuisine. The sourness of pomegranate accompanies this sweet taste. I really like pheasant when it is cooked like that, it doesn't taste any good when it's all dry. I think pheasant meat is tastier than chicken but not as special as squab.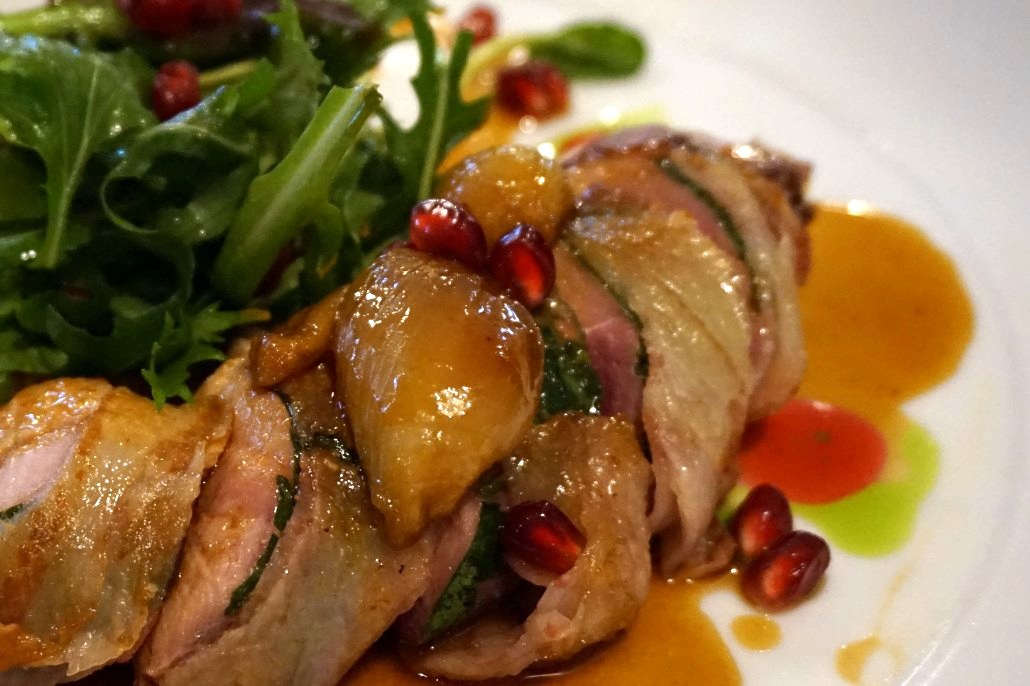 There were a few pieces of sinew in our food. I guess the meat wasn't trimmed that well. A note of warning: If you don't request otherwise, pheasant meat is served wrapped in bacon here. If you don't eat pork, it might be a good idea to express that beforehand.
A Good Soufflé Experience
I've been saying this for years: It isn't easy to make soufflé! You can't make a good soufflé by using ready-made mixes and simply cooking them in clay pots. But unfortunately, that's what many places do in Turkey, obliging us to ordinary tastes. Aromi, on the other hand, is a place that deeply impressed me with their soufflés. First of all, the filling is incredibly good. To avoid getting tired of the little pieces of almond in this Italian type soufflé, they added cherry bites in the filling. You can inhale the wonderful smell of butter in this dessert. On top of that, they serve it with lemon sorbet that was good enough, though it wasn't as memorable as the one I had at Signor Sassi. Acidity of the sorbet keeps you from getting tired of the sweetness. I really liked it.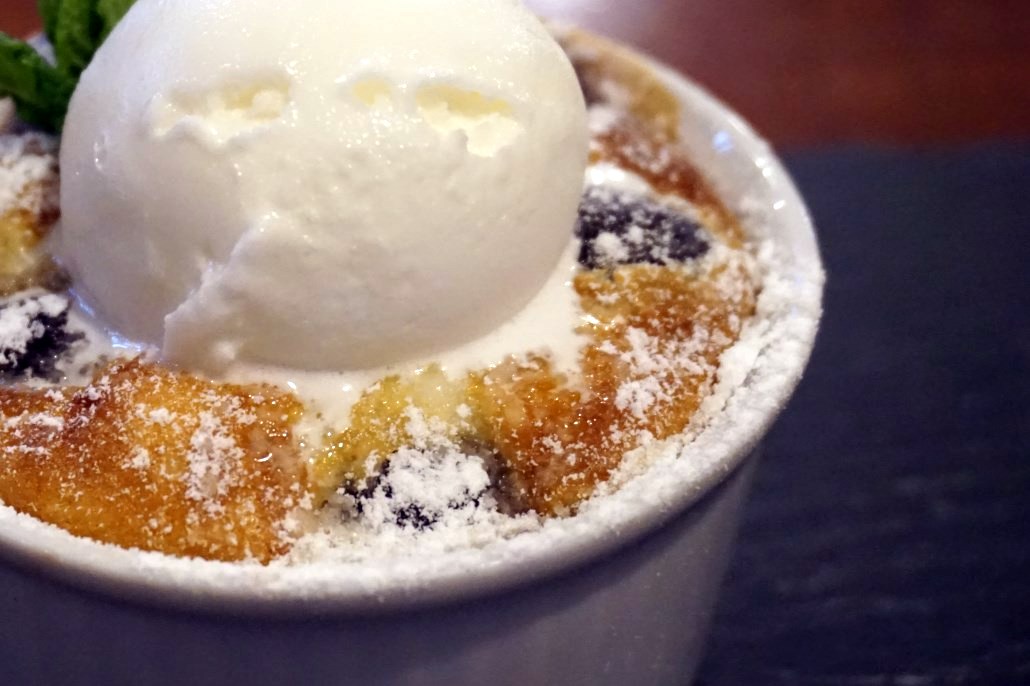 Overall, Aromi is a refreshing Italian restaurant that is open to new ideas. Also, it's a significant place for the Czech cuisine, because instead of importing a different cuisine, they created a new identity by adding touches from their own food culture. It has a nice ambience, and qualified staff. I usually found problems with their meat dishes, they may need to pay more attention to that. As for their pasta dishes, I have nothing to say but: Bravo!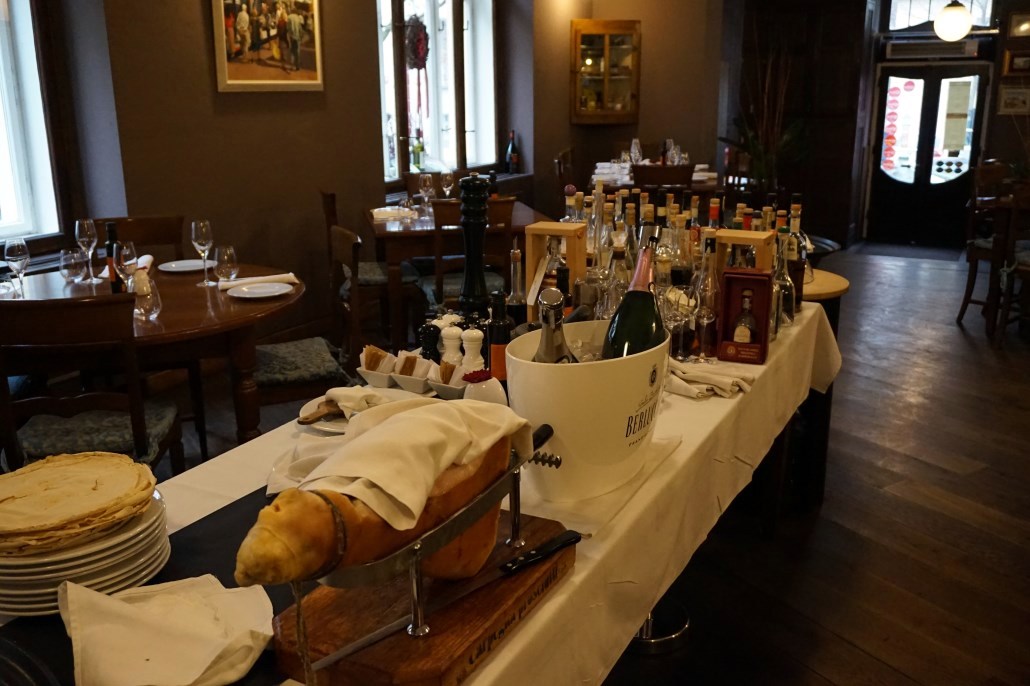 Evaluation: 7.5/10
Address: Mánesova 1442/78  Prague 2 – Vinohrady120 00 Czech Republic
Telephone: +420 222 713 222