Do you remember the place mentioned in the famous song Nathalie by Gilbert Becaud? The song in which Monsieur Becaud daydreams about talking with a girl, drinking hot chooc0late? How about becoming a part of this dream?
With no doubt, Cafe Pushkin Moscow leads the top touristic attractions in Moscow. We can say the factors that play a great role in this are its centrality, its decoration; it's been serving for hundreds of years and many other more.  In terms of taste, I'm still indecisive though. It's not as good as the ambiance, but at least it's not old-fashioned like its ambiance. There are new specials, however the old recipes overshadow them.
It's the same problem with touristic cafes and restaurants. Waiters are usually not well mannered and not that helpful. What they care about is the amount of tips you'll give them. In fact, very little of them deserve this. It's not that different at Cafe Pushkin Moscow. I'm sure even their managers are not as influential as they are.
Two Things Attracted My Attention: Ravioli and Hot Chocolate
There are 2 specials I can recommend you. One of them is their Ravioli with orange. Interestingly, in a cold country like Russia, Italian cuisine is favoured here. In most of the restaurants, you'll encounter foreign specials like risotto, ravioli, and pizza. In that sense, food marketing is totally tourist-oriented. In fact, Russian cuisine has a lot of interesting specials. Where can we eat this if we can't have them in Russia?  As a result of this marketing orientation, ravioli is in their menu. I guess they've chosen Italian cuisine, as it's risk-free. It's easy to make, and in the end, who doesn't like pasta?
Ravioli with orange is the favourite dish at our table. The consistency of its sauce, and the cooking level of the pasta are higher than our initial expectations. I think orange sauce goes really well with this dish. Although, we couldn't experience the same amazing taste with other Italian dishes, for instance risotto with cherry.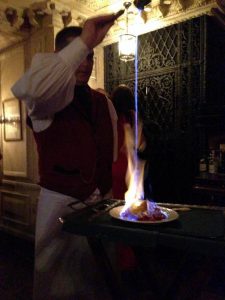 European Hot Chocolate
Another thing I really like here is their hot chocolate. It's an on-going tradition at this restaurant… sipping your hot chocolate inside in cold Russian days. I taste hot chocolate wherever I go in Europe. I've had a chance to taste excellent hot chocolates at Angelina in Paris, Fassbender& Rausch in Berlin, Cafe Sacher in Wien. This hot chocolate is as good as the ones I've just mentioned. You can feel the intense chocolate taste all over your mouth. The quality is invaluable. So it seems there are other cautions against cold Russian days other than vodka…
Evaluation 6/10
26a TverskoiBulvar,
Moscow Russia; 7-495-229-5590