"We Promise, We Will Love You!"
Sasazu brings restaurant and club concepts together in Prague, and besides its fascinating decoration, it has a great kitchen, and employees who do whatever they can to make you feel comfortable. Here, you can get a massage while tasting the exciting cuisine of Asia, coming out of a kitchen you can safely watch. If you're not tired, you can stay in the restaurant to jump right into  Prague's nightlife, as the place turns into a nightclub as the night goes on. Sasazu has the most interesting concept I've seen in Europe lately. I definitely think it's a must-see place. Here is their motto: "We promise, we will relax you and we will love you!"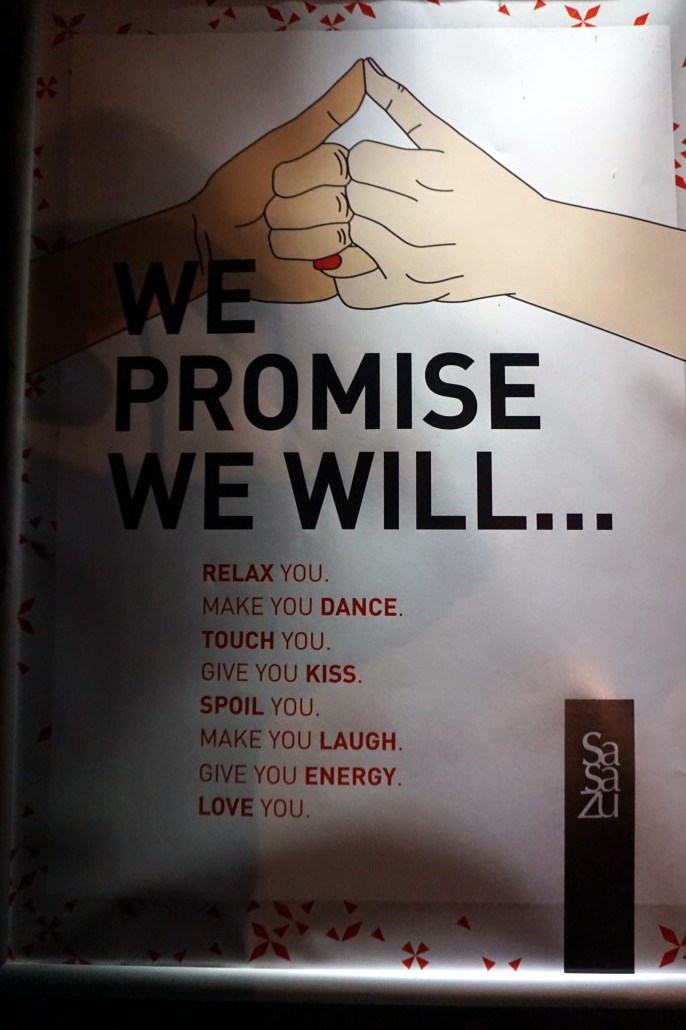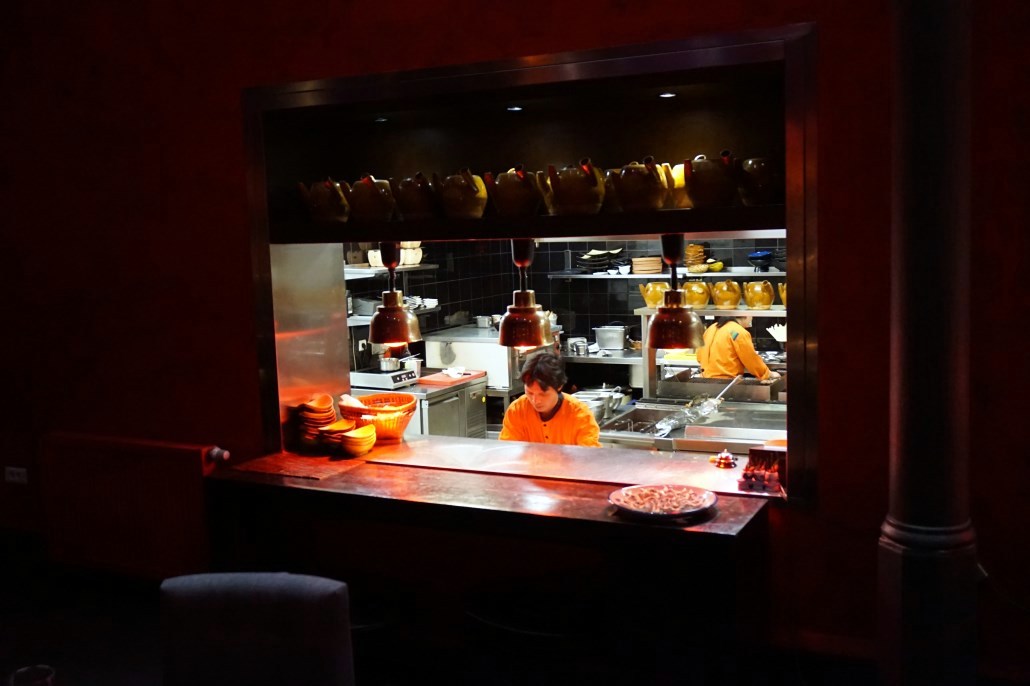 5 Different Types of Food from Asia
Sasazu presents Asian food differently from other classical concepts. Their menu is divided into 5 sections: Sambal, Otak Otak, Flame, Roti, Thai Grill. Each type has a different preparation and cooking style. In Sambal, they use vegetables and spices like ginger, chili pepper, cinnamon, coriander, lemon, and kaffir lime leaves. Sambal represents the freshness, taste, and the richness of spices in Asian cuisine. The Thai papaya salad we ordered from this section is a mix of vegetables and spices, prepared with green papaya leaves, mango, coriander, Thai beans, lemon grass and chili sauce. This salad reflects the richness of flavor in Sambal culinary art, as well as the freshness of vegetables. The sauce is medium hot and sweet. There are also cajun nuts in it. It creates a good contrast with the monotonous tenderness of the salad, especially with the doughy softness of the papayas. Lemon grass is quite strong among the flavors but that strength doesn't show itself well in my palate. I liked the salad, but wouldn't recommend it to the ones who don't like spicy food.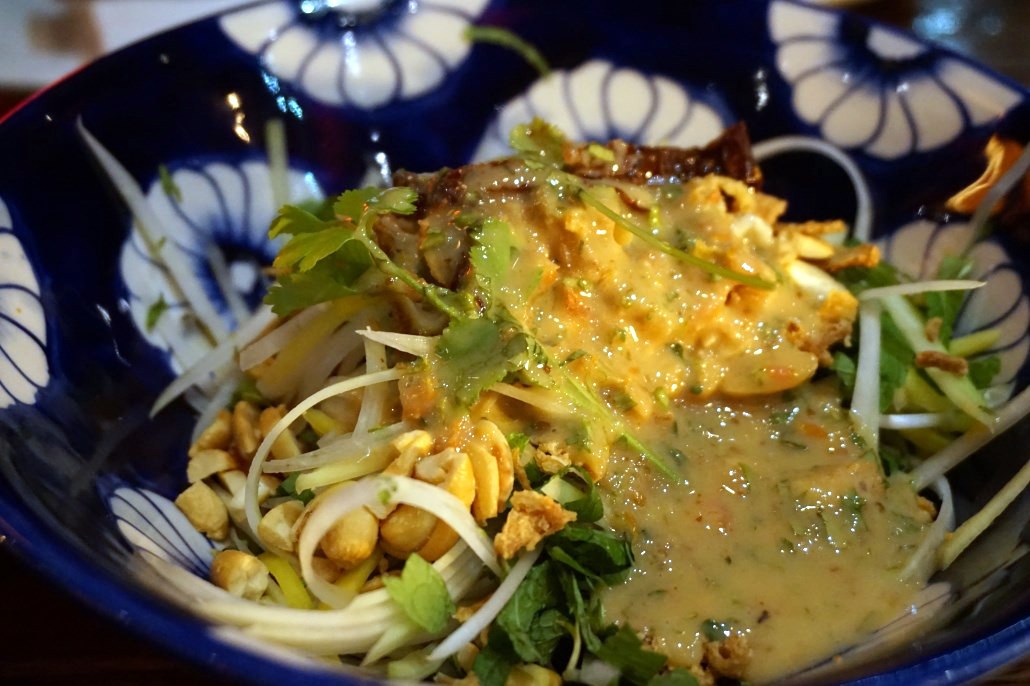 The second cooking method, Otak-Otak, is a specialty of the islands in Southeast Asia. It is prepared by wrapping fresh fish in banana leaves, and eaten either boiled or fried. Sasazu serves both options at the same time, and instead of banana leaves, they use nori, seaweed that is used with sushis. They wrap tuna wish, both boiled and fried, in nori. Wasabi's spicy taste takes over immediately and creates the familiar nose-tingling burn. The quality of the fish is really good. Unlike sushi, they don't use rice in Otak-Otak. As a person from Mersin (a city on the Mediterranean coast of southern Turkey), I think even spices go well together with fish, and that's why I liked it. I strongly recommend this food since it's one of Sasazu's specialties.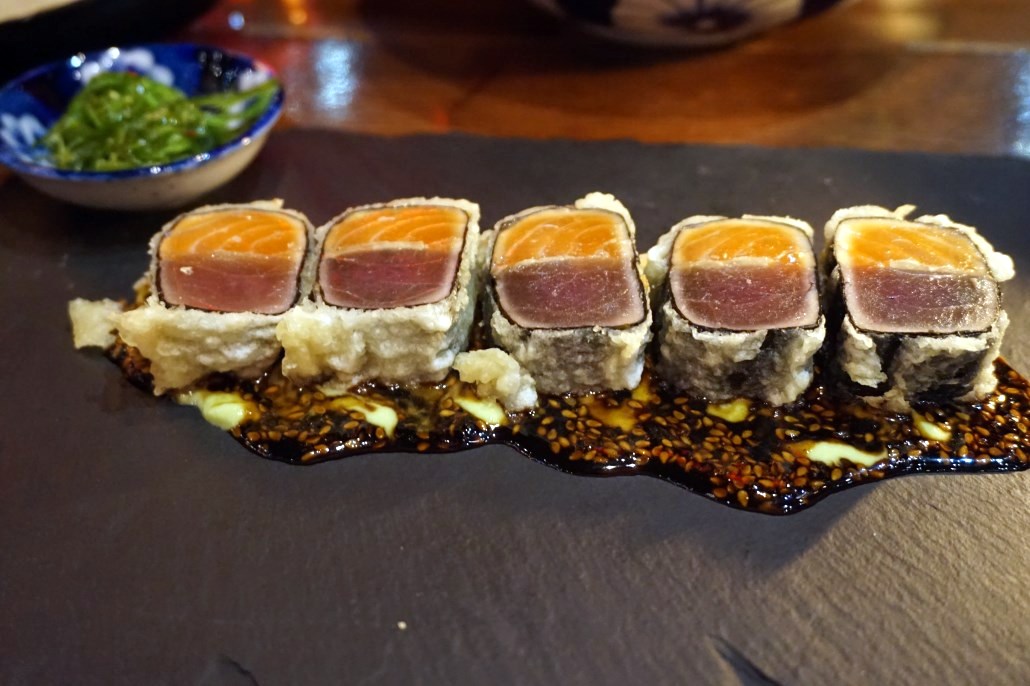 The cooking method they call Flame is used for food that is cooked in wok pans, a method we're used to seeing in Turkey. It stands for the fire created by using Shaoxing wine on sesame oil, and used to cook meat and vegetables. If you don't like spicy salads, you can try their duck salad, but my suggestion is to eat Hanoi Shrimps. It is a wonderful seafood made with tempura and dashi sauces, crispy on the outside and juicy inside. Since I was trying the dashi sauce for the first time, I did a bit of an Internet search to tell you more about it. This sauce is prepared with the mix of dried tuna fish and brown seaweed called kelp. Tuna doesn't leave much taste in your mouth when you're eating but you can identify the green onion-like taste of kelp. The sauce is quite salty because of these two sea products. While eating that shrimp, I kept asking myself why we don't have such juicy shrimps in our country.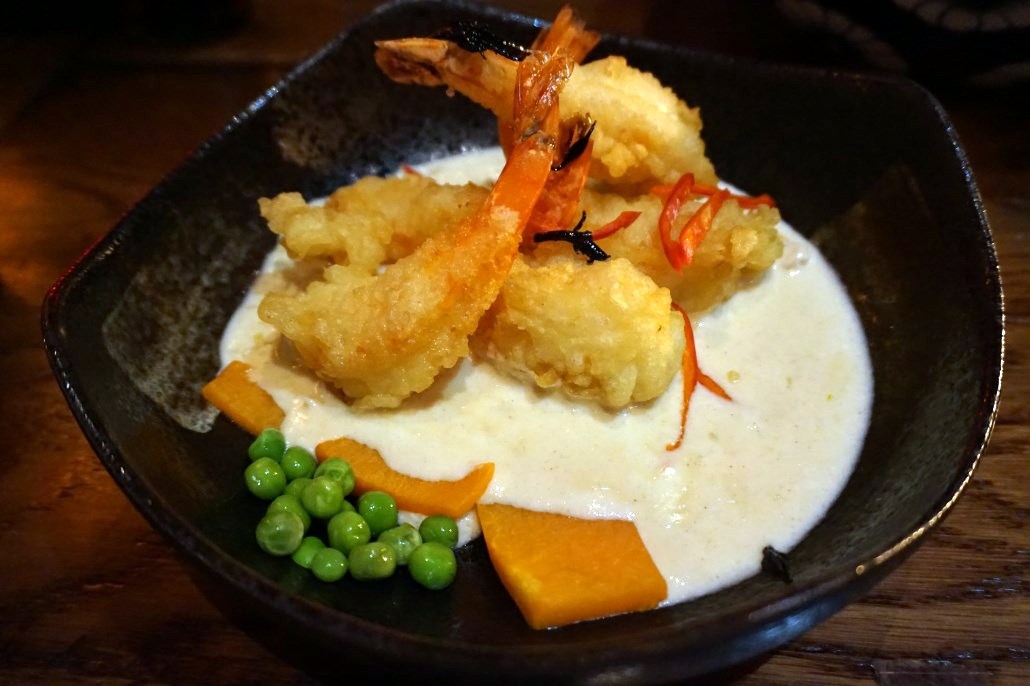 Another category in Sasazu's menu is Roti, dishes that are cooked in stone oven. Sasazu is quite assertive in this style with its 500 Celsius degrees oven. The most interesting dish of this category is Beef Randang. This Indonesian dish is prepared by cooking the meat for 7 hours, tearing it into little pieces, then wrapping it in lettuce, like Turkish çiğköfte (a raw meat dish). It resembles sushi, in a sense, and there are noodles inside the lettuce wrap. The underlying sauce is made up of coconut and pineapple – a sweet, mid-density sauce. I found this dish the most creative among the ones I tried. Perhaps I liked it because it was the first time I had a dish from a different cuisine, similar to our own çiğköfte, prepared with different ingredients. The dish was served with minted bread but it was too dry – not worth to eat it.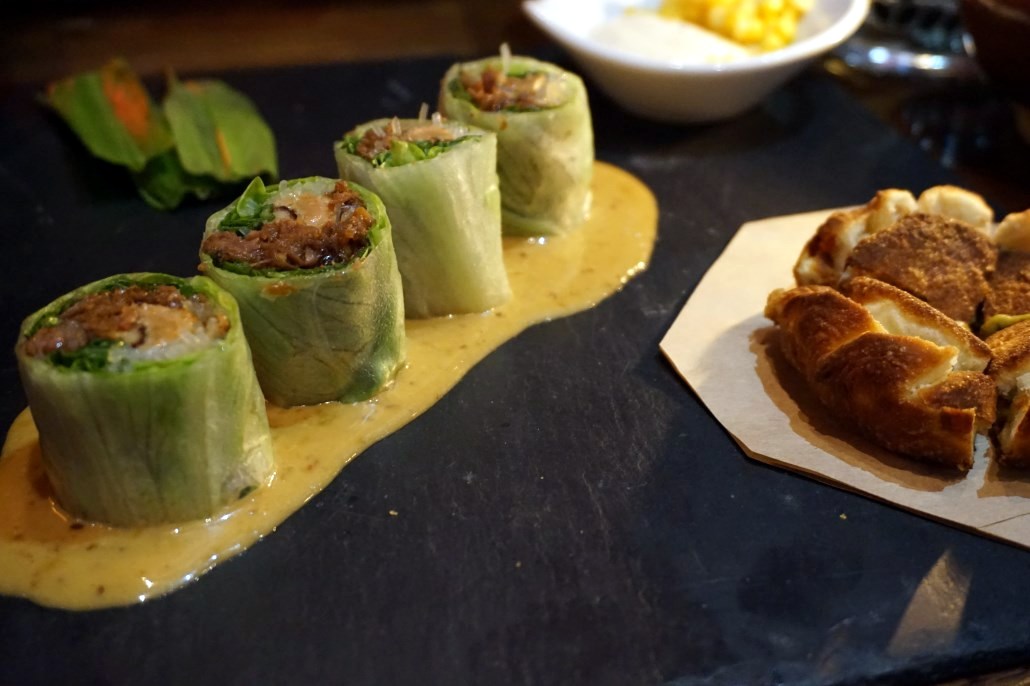 Another dish we tried from Roti section is Bombay Butter Chicken, because of the waiter's insistence. Chicken pieces marinated in yoghurt and blended with garam masala sauce is served on tortilla-looking bread cooked in 500 Celsius oven. The yoghurt sauce was extremely salty, with much arugula (rocket) and lime juice. I don't think arugula and chicken go well together but lime tastes good with chicken. But still, it was way too salty, and the only specialty food that I didn't enjoy eating. Sasazu should re-evaluate this weak spot urgently, since the table next to us also sent the food back with the same complaint.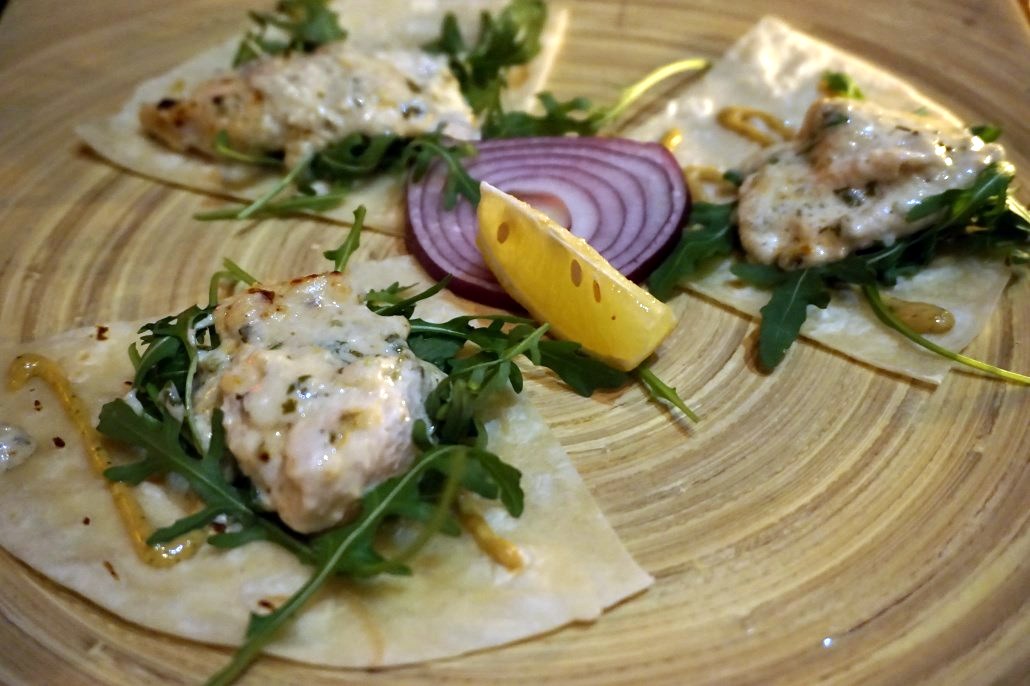 The last dish is from the last section of the menu: Tai-Tai Grill. It is the generic name for dishes that are prepared with mushy rice, coconut, and the leaves of an indigenous Asian plant called pandan.It was the first time that I ever heard of this plant.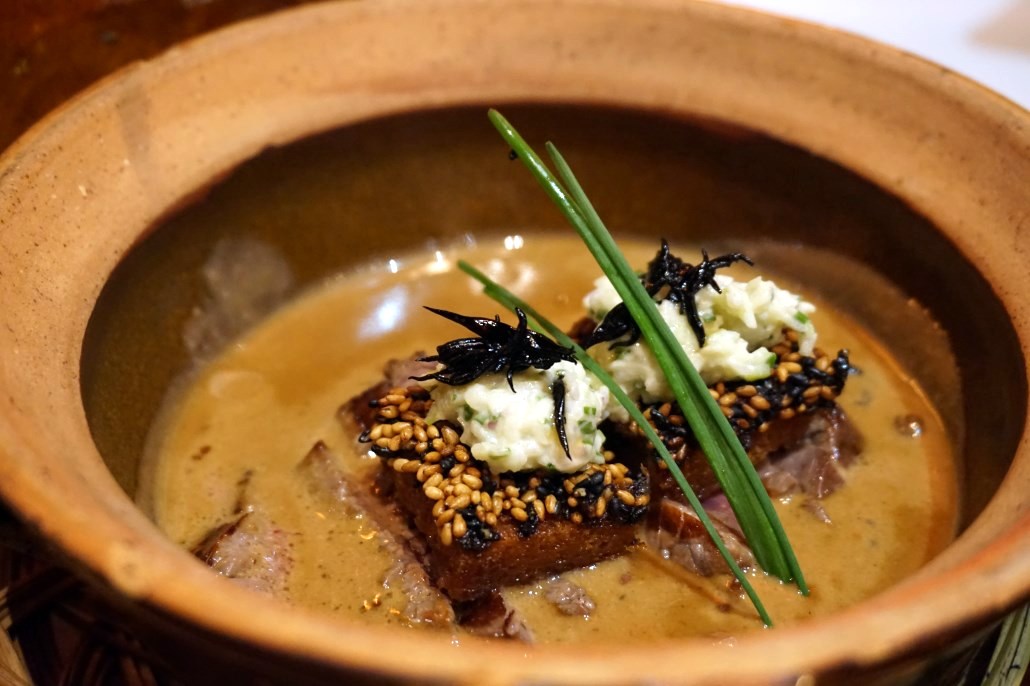 From this section, we ordered Sasazu Fillet. One of the signature dishes of this place. Steak fillets in morel mushroom sauce was absolutely superb. The quality of the meat was very good, it was pink inside and cooked without being burned. This dish has the closest flavors to the Turkish cuisine.
I liked their sticky rice because it wasn't too mushy. Though it was boiled, the rice grains were still separable. Onion crisps were added on top of the rice – soft and crispy created a good harmony.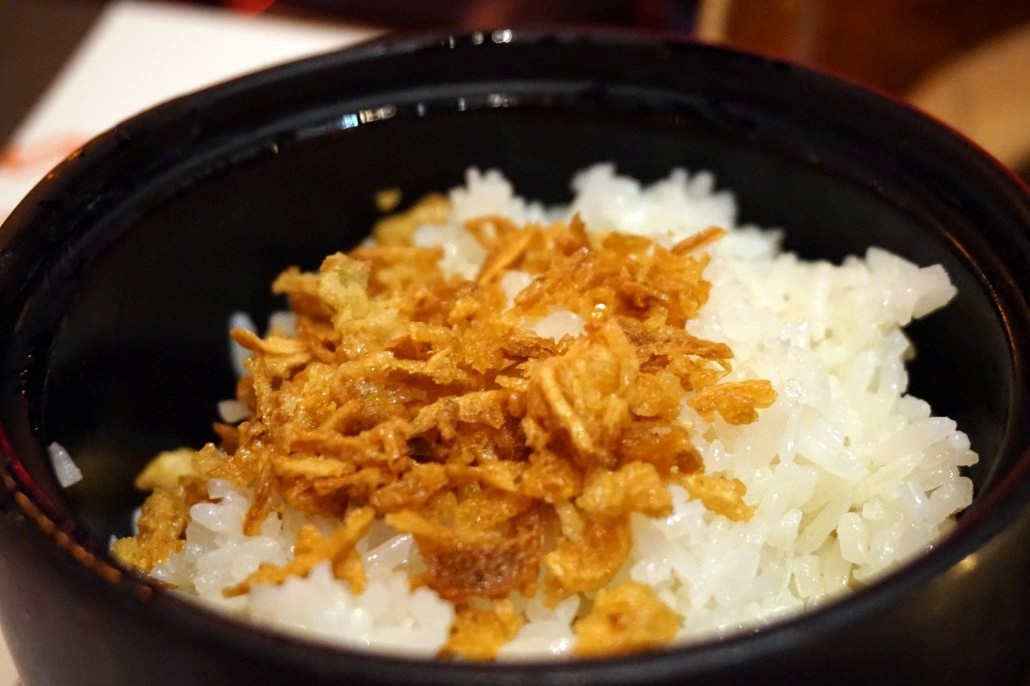 One of the Best Desserts I Recently Had
For dessert, we ordered Semi-Fredo Strawberry. Before we had our dessert, they brought us a cup of hot green tea with two spoons in it, and said that the spoons should be hot to eat the dessert more comfortably.
This dessert has a layer of frozen lemon Crème brûlée that was hardened by burning the top part with sweet rice paper. Under this hard layer, hot spoons gracefully cut the frozen crème brûlée. Such a successful presentation and taste! Fresh, creative, delicious. I was really impressed. The only downside was that they used frozen strawberries because it was winter, and there is nothing to do about that. I wish I could have the chance to eat it in summer. I hope you can try it in a summer evening.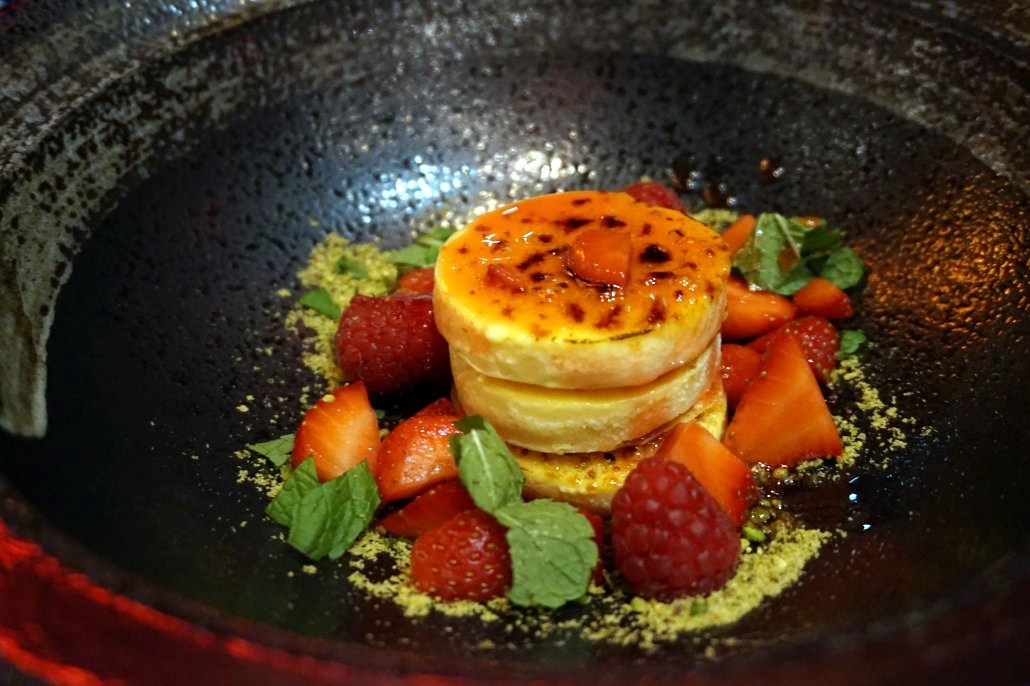 Sasazu will make you happy with its waiting staff, as well. First of all, their English is pretty good, which is much needed in Prague. I watched one of them while serving wine, and was really surprised. He did everything flawlessly!
And about the Asian ladies walking up and down in the restaurant. These ladies give you a massage while you're eating, in exchange for a certain amount of tip. As I said before, Sasazu's concept is all about making the customers feel comfortable.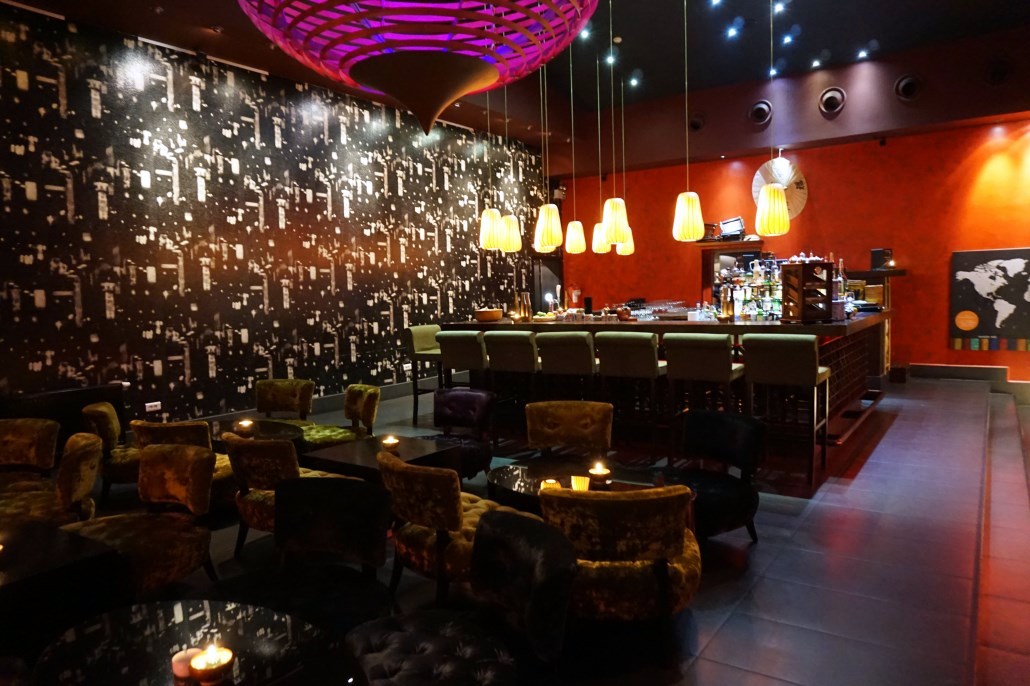 Evaluation: 9/10
Address: Bubenské nábřeží 306 170 04 Prague Czech Republic

Tel: +420 284 097 455